MARCH 2003
Report from a theocracy - Part I
New scrutiny of role of religion in Bush's policies 3/17
President Bush has never been shy about injecting his faith into the public arena - his campaign remark that Jesus Christ was his "favorite political philosopher" was an early signal. But his rising use of religious language and imagery in recent months, especially with regard to the US role in the world, has stirred concern both at home and abroad.
Report from a theocracy - Part II
America's deep Christian faith 3/17
It is not unusual to see people walking the White House corridors with a Bible in hand.
MUST READ: The making of the Iraq "crisis"
Deep roots of Bush's hatred for Saddam 3/17
The determination in Washington to confront Saddam goes back more than a decade. The men who are now President Bush's key advisers have long advocated regime change in Iraq. This is how their beliefs became the driving force behind the administration.
Iraq Links Germs for Weapons to U.S. and France 3/17
Iraq has identified a Virginia-based biological supply house and a French scientific institute as the sources of all the foreign germ samples that it used to create the biological weapons that are still believed to be in Iraq's arsenal, according to American officials and foreign diplomats who have reviewed Iraq's latest weapons declaration to the United Nations.
Rockefeller requests FBI investigation of forged Iraq documents 3/17
The top Democrat on the Senate Intelligence Committee asked the FBI on Friday to investigate forged documents the Bush administration used as evidence against Saddam Hussein and his military ambitions in Iraq.
Democracy Domino Theory 'Not Credible' 3/17
A classified State Department report expresses doubt that installing a new regime in Iraq will foster the spread of democracy in the Middle East, a claim President Bush has made in trying to build support for a war, according to intelligence officials familiar with the document.
Proof at any cost has made truth a casualty of the crisis 3/17
Further doubts have arisen over the intelligence presentation on Iraq's weapons of mass destruction made by US Secretary of State, Colin Powell, at the UN Security Council last month.
The impact of Bush linking 9/11 and Iraq 3/17
In his prime-time press conference last week, which focused almost solely on Iraq, President Bush mentioned Sept. 11 eight times. He referred to Saddam Hussein many more times than that, often in the same breath with Sept. 11.
Powell will take the rap for failed diplomacy 3/17
Recrimination at the failure of US diplomacy has begun in Washington, one source close to the administration admitting yesterday: "This has been the worst American diplomatic debacle of our lifetime." Administration sources suggest that this is the prelude to a postwar bloodletting in which the secretary of state, Colin Powell, will be the fall guy.
Analysis: Selling the war 3/17
The Azores summit was not really about taking a decision to go to war but about presentation.
UN arms inspectors join the exodus 3/17
One third of the United Nations weapons inspectors charged with disarming Iraq have already left, paving the way for the end of their mission and the final evacuation of westerners from the country, it emerged yesterday.
U.S. Orders Personnel to Leave Israel, Kuwait 3/17
The State Department ordered famiAly members of U.S. government employees and all nonessential personnel to immediately depart Israel, Syria and Kuwait.
Marine Predicts Brief Bombing, Then Land Assault 3/17
The top Marine commander in the region predicted today that war was "just a few days away" and suggested that it would begin with a three- or four-day bombing campaign intended to wipe out half the Iraqi defenders at the border before U.S. and British land forces are sent in.
Threats fly after Ankara's flight ban 3/17
Thirteen missile-firing US warships yesterday sailed into the Red sea to obtain a clear line of fire against Iraqi targets following Turkey's refusal to open its airspace to American forces preparing the assault on Saddam Hussein. In a sign that exchanges between the Nato allies have degenerated into political threats, the US warned Ankara to abandon plans to send troops into Kurdish-controlled northern Iraq.
Last-ditch talks over row with Iraqi Kurds 3/17
SENIOR Iraqi Kurdish leaders flew into the highly charged atmosphere of Ankara yesterday for a meeting that is hoped will defuse a bitter dispute between two of Washington's crucial allies.
Humanitarian crisis may greet British Army in southern Iraq 3/17
The British Army, ill-prepared and unenthusiastic to act in a humanitarian role, could be confronted by a "catastrophic" crisis of hungry and homeless civilians if Tony Blair orders the troops into southern Iraq.
'Rolling start' a challenge for U.S. troops 3/17
The American-led coalition that is preparing to topple Saddam Hussein's government is planning for a complex invasion of Iraq to begin even as allied troops are still arriving in the region, senior commanders say.
Qaeda recruiting drive draws on Iraq crisis 3/17
On three continents, Al Qaeda and other terror organizations have intensified their efforts to recruit young Muslim men, tapping into rising anger about the American campaign for war in Iraq, according to intelligence and law enforcement officials.
Pakistan's cities hiding senior al-Qaeda 3/17
Senior operatives of the hunted al-Qaeda terrorist group appear to have found the affluent suburbs of Pakistan's cities a better hiding place than the country's network of fundamentalist Islamic schools or its isolated tribal villages.
Terror threat prompts shipping escorts 3/17
Fears of another terrorist attack by al-Qaeda have prompted Nato to begin escorting allied civilian ships through the Strait of Gibraltar at the entrance to the Mediterranean Sea.
World Bank chief issues opium alert 3/17
Opium cultivation has reached record levels in Afghanistan, World Bank president James Wolfensohn warned yesterday. In an exclusive interview with The Observer, Wolfensohn revealed that drugs were now a bigger earner for the Afghan economy than overseas aid.
New GYWO. Check it.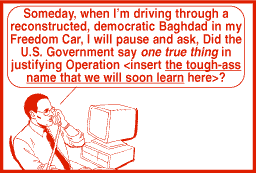 You Can't Make Stuff Up This Good
The Case of the 'Deadly' Drone 3/13
Iraq rolled out a controversial drone aircraft Wednesday, in an effort to rebut American claims that Iraq could use it to spread chemical and biological weapons. The primitive craft - its wings held together with tin foil and duct tape, and two wooden propellers bolted to engines far smaller than those of a lawn mower - looked more like a high-school science project than the "smoking gun" that could spark a war.
Or a domestic government
FBI Looks Into Fake Evidence on Iraq 3/13
The FBI is looking into the forgery of a key piece of evidence linking Iraq to a nuclear weapons program, including the possibility that a foreign government is using a deception campaign to foster support for military action against Iraq.
U.S. Says It Gains Votes for Iraq Deal 3/13
The Bush administration said yesterday it was within close range of majority support for a new U.N. resolution authorizing war with Iraq, but no other country stepped forward to say it had decided to vote for the measure.
U.S. resolution on Iraq may not go to UN vote 3/13
A United States-led draft resolution to set the stage for a military confrontation with Iraq may not be put to a vote before the United Nations Security Council because of a French threat to veto the measure, Spain's foreign minister told reporters in Madrid on Wednesday.
US hawks press Bush to go to war, UN or not 3/13
PRESIDENT BUSH is facing increasing pressure from hawks to cut his losses at the United Nations and strike Iraq without further delay.
Bush loses patience with UN haggling 3/13
The patience of the Bush administration was distinctly threadbare last night as US officials insisted they would not allow themselves to become further bogged down in a diplomatic quagmire at the United Nations.
Top U.S. general in Qatar 3/13
General Tommy Franks, who will oversee war against Iraq if it comes, arrived here Wednesday to review war plans and the readiness of troops with his senior commanders, military officials said. The duration of the general's stay and his specific mission were unclear. Officials said they were being deliberately vague about his movements, both for security reasons and to avoid tipping off the Iraqis to American intentions.
Missile bombardment likely first step in U.S. attack 3/13
A U.S. attack on Iraq probably would begin with an onslaught of sea-based cruise missiles fired by as many as 30 ships, one of the Navy's three battle group commanders in the Persian Gulf said Wednesday.
Turks Add A Hurdle To U.S. War Plans 3/13
Hardening their position, Turkey's leaders insist they need further assurances about post-war Iraq before they allow U.S. troops to deploy along the border for an attack. In a new complication, they also are refusing to let the Pentagon use Turkish airspace without approval from parliament.
On the front with Iraqi deserters 3/13
The soldiers and politicians in Iraqi Kurdistan, which has been free from Saddam Hussein's control since the last Gulf War, believe that morale among Saddam's men on the other side of the front line is extremely low. According to Iraqi deserters, almost everyone from generals to private soldiers is thinking about his own future and how best to escape from Saddam's control.
Pakistan leaks may hinder bin Laden hunt 3/13
Despite recent arrests by Pakistan's intelligence agency, US officials say it is still a friend to Al Qaeda.
Since a U.S-led coalition booted the Taliban and its leaders from power in Afghanistan in December 2001 for refusing to hand over Osama bin Laden after September 11, the Taliban supreme leader, Mullah Mohammed Omar, has vanished.
Report: Gov't Must Do More to Protect Nuclear Material From Terrorists 3/13
The threat of terrorists setting off a crude nuclear bomb in a major city is real and should be urgently addressed, concludes a private report issued Wednesday on controlling nuclear materials.
Pentagon hawk at war with his own side 3/13
Donald Rumsfeld, abrasive civilian determined to run Iraq conflict his way.
Pentagon seeks freedom to pollute land, air and sea 3/13
The Pentagon is quietly seeking exemptions from some of America's main environmental laws, which would give the military free rein to dump spent munitions, pollute the air and poison endangered species at its bases without risk of liability for any damage.
European Union in New Warning on Bush Go-It-Alone War 3/13
In another call for the Bush administration to slow its march toward war, the foreign relations head of the European Union warned today that Europe might withhold money for the reconstruction of Iraq if the United States waged war without the approval of the Security Council.
N.Korea Uranium Bomb Advance, Missile Test Feared 3/13
U.S. officials said spyplane flights will resume near North Korea and the communist state is months away from making nuclear bombs, while a report said the North may soon launch a ballistic missile.
Allies warned to brace for violent Islamic backlash 3/13
Jordan's most powerful Islamic opposition group has warned Australia and other countries backing a United States-led attack on Iraq that they face a violent backlash from across the Arab world.
How US is preparing for retaliatory strikes 3/13
It puts Iraqis under watch and issues warnings about Al Qaeda, other terrorists.
Fox News: Hussein Opens Training Camp for Homicide Bombers
Original AP Story: Saddam Reportedly Opens Suicide Camp
Cheney is still paid by Pentagon contractor 3/12
Halliburton, the Texas company which has been awarded the Pentagon's contract to put out potential oil-field fires in Iraq and which is bidding for postwar construction contracts, is still making annual payments to its former chief executive, the vice-president Dick Cheney.

The payments, which appear on Mr Cheney's 2001 financial disclosure statement, are in the form of "deferred compensation" of up to $1m (£600,000) a year.
No Iraq vote yet, but Bush digs in 3/12
Britain, the United States' staunchest ally in its campaign to overthrow Saddam Hussein's regime, has begun to distance itself from a White House insistent on confronting Iraq with or without the UN's blessing.
Sources tell CBS News that Great Britain – America's closest ally – may find it politically impossible to commit its military to a U.S.-led attack on Saddam Hussein. And that could force the United States to go it alone in Iraq.
US ready to fight 'without UK' 3/12
US Defence Secretary Donald Rumsfeld has sparked diplomatic confusion by suggesting that America would be prepared to take military action against Iraq without Britain.
Selling an Iraq-al Qaeda connection 3/12
During testimony before the Senate Intelligence Committee in mid-February, CIA Director George Tenet added, "Iraq has, in the past, provided training in document forgery and bomb-making to al Qaeda. It has also provided training in poisons and gases to two al Qaeda associates."

These assertions, however, might be as good as the case gets for U.S. officials linking the terror network to Iraq. While some members of al Qaeda could be operating out of Iraq, intelligence and investigative sources said there is evidence the group also operates out of Iran and Pakistan. And while there is evidence Iraqi officials might have helped al Qaeda years ago, the same case could be made for Pakistani, Yemeni and Saudi officials.
White House all but concedes U.N. defeat 3/12
After days of cautious optimism that President Bush would win at least a moral victory on a resolution setting a deadline for war with Iraq, White House aides on Tuesday all but conceded defeat.
Oil Motives Seen in War Plan 3/12
Maybe it's a coincidence, but American and British oil companies would be long-term beneficiaries of a successful military offensive led by the United States and Britain to remove Iraqi President Saddam Hussein.
Action call over dirty bomb threat 3/12
Security should be tightened urgently to prevent radioactive material falling into the hands of terrorists, the UN's nuclear watchdog has said.
Stealth jets sent to South Korea 3/12
In a move certain to further fuel North Korean war fears, the United States is sending up to six radar-avoiding F-117A "stealth" warplanes to South Korea for joint military exercises.
Invasion will spur terrorism on, Arab opinion poll says 3/12
More than 70 per cent of Arabs in Egypt, Jordan and Lebanon believe that an American invasion of Iraq will increase "terrorist operations" and more than 15 per cent say there will be an attack on American forces "within days" of a US occupation, according to an opinion poll.
'Illegal war' could mean soldiers face prosecution 3/12
Ministers face the real prospect of waging an illegal war, which could lead to British soldiers being prosecuted by the newly constituted International Criminal Court (ICC).
General who would control a war flies to the Middle East 3/12
General Tommy Franks, the man who will head the seemingly inevitable US-led war against Iraq, was in the Middle East last night, visiting troops in the region and fine-tuning battle plans with commanders.
Aid agencies in the Gulf say they're not ready for a long war 3/12
As the Bush administration draws closer to a war with Iraq, relief organizations in the Gulf region say they have neither the supplies nor the money to cope with millions of injured, displaced and starving people.
Despite American efforts, world criminal court is born 3/12
With the backing of 89 countries but facing a boycott by the United States, the International Criminal Court was formally inaugurated in a borrowed 13th-century grand hall in the presence of Queen Beatrix of the Netherlands.
Islamabad shows little appetite for U.S.-led war 3/12
The prime minister of Pakistan called Tuesday for more time to search for a peaceful solution in Iraq, strongly suggesting that Pakistan this week would not support a U.S.-backed resolution in the United Nations that could be used to justify an attack.
Anti-war hero Chirac finds his destiny 3/12
JACQUES CHIRAC was basking in ecstatic praise from virtually all of France yesterday after his Monday night pledge to defy America and veto a war against Iraq.
Oil wells mined as Iraqis prepare 3/12
WELLHEADS of the richest oilfields in the north of Iraq have been mined and set with explosives ready to detonate in case of American attack, according to Western sources and Kurdish civilians fleeing the city of Kirkuk.
Iranian nuclear power plant nears completion 3/12
Iran's first nuclear power plant, which the United States claims can be used to make nuclear bombs, is nearing completion and all major components are installed, Iranian officials said Tuesday.
Annan Says U.S. Will Violate Charter if It Acts Without Approval 3/11
Secretary General Kofi Annan warned today that if the United States fails to win approval from the Security Council for an attack on Iraq, Washington's decision to act alone or outside the Council would violate the United Nations charter.
Army Fears Postwar Strife Will Test Occupation Force 3/11
The U.S. Army is bracing both for war in Iraq and a postwar occupation that could tie up two to three Army divisions in an open-ended mission that would strain the all-volunteer force and put soldiers in the midst of warring ethnic and religious factions, Army officers and other senior defense officials say.
Bush and Blair face diplomatic disaster 3/11
The French and Russian announcements that they will use their vetoes at the United Nations Security Council spell diplomatic disaster for the American and British effort to get a second resolution. If the veto is used, there will simply be no resolution.
Pakistan will not support U.S.-backed Iraq resolution 3/11
Pakistan will not support the U.S.-backed resolution approving war with Iraq, Prime Minister Zafarullah Khan Jamali said Monday.
Britain Races to Rework U.N. Resolution on Iraq 3/11
British officials sought urgently yesterday to retool a U.N. Security Council resolution authorizing war against Iraq after a majority of council members indicated they would not vote for it in its current form, diplomats and Bush administration officials said.
Saddam aims to drag allies into a new Stalingrad, says British forces' chief 3/11
Saddam Hussein is preparing for a "Stalingrad siege" of Baghdad against advancing Allied forces which could be slowed down by the capture of prisoners of war, a displaced population, and the use of chemical weapons against civilians, the commander of UK forces in the Gulf warned yesterday.
Growing Number in U.S. Back War, Survey Finds 3/11
Americans are growing impatient with the United Nations and say they would support military action against Iraq even if the Security Council refuses to support an invasion, according to the latest New York Times/CBS News Poll.
Blix 'hid devastating facts on weapons' 3/11
The White House yesterday demanded that Hans Blix, the chief United Nations weapons inspector, explain why he buried potentially devastating revelations about newly-discovered Iraqi weapons systems in his last written report.
U.S. attorneys dispatched to advise military 3/11
In a war with Iraq, U.S. commanders could often have an agonizing choice: strike a target and run the risk of killing civilians, and being accused by the rest of the world of committing a war crime, or hold fire and run the risk that Saddam Hussein will still have deadly weapons he can use against American and British troops or neighboring countries.
Scholars Urge Jihad In Event of Iraq War 3/11
Islamic scholars at Cairo's Al-Azhar University, the preeminent seat of Sunni Muslim learning in the Arab world, have declared a U.S. attack on Iraq would threaten all Arabs and Muslims and urged a jihad to defend their interests.
N Korea fires second test missile 3/11
The standoff between Washington and Pyongyang intensified yesterday as a new deployment of US bombers to the region practised attacks on enemy targets, while North Korea test-fired its second missile in as many weeks.
Bush Sr warning over unilateral action 3/10
THE first President Bush has told his son that hopes of peace in the Middle East would be ruined if a war with Iraq were not backed by international unity.
Some Evidence on Iraq Called Fake 3/10
A key piece of evidence linking Iraq to a nuclear weapons program appears to have been fabricated, the United Nations' chief nuclear inspector said yesterday in a report that called into question U.S. and British claims about Iraq's secret nuclear ambitions.
On a Mission from God
For Bush, War Defines Presidency 3/10
"It seems as if he is on an agenda from God," said Jim Cody, a Tennessee Christian broadcaster who was at a convention of religious broadcasters Bush addressed last month. "The Scriptures say God is the one who appoints leaders. If he truly knows God, that would give him a special anointing."

Cody's friend, Steve Clark of the Faith Baptist Tabernacle in Jamestown, Tenn., concurred that "Divine Providence" has a role in Bush's actions. "At certain times, at certain hours in our country, God has had a certain man to hear His testimony," he said.
Allied bombs threaten a new generation of children with trauma, disease and death 3/10
In a country where almost half the population is under 14, aid agencies predict that a new conflict will bring widespread death, displacement and disease, and for those who survive, lasting psychological problems. The situation is already serious. More than a third of Iraqi children are undernourished, and those suffering from serious diseases, including cancer allegedly connected to the use of depleted uranium shells in the Gulf War, has doubled in the past 10 years. One in four babies born is underweight; eight million children depend on state rations.
Chirac drumming up support to halt US-British rush to war 3/10
French President Jacques Chirac is lobbying other heads of state to join him at an emergency summit of United Nations Security Council members to search for a compromise on Iraq, according to a statement from his office at the weekend.
Urgent Diplomacy Fails to Gain U.S. 9 Votes in the U.N. 3/10
After a weekend of urgent diplomacy, the Bush administration has so far fallen short of lining up nine votes on the United Nations Security Council in favor of a resolution that would threaten Saddam Hussein with war if Iraq did not disarm, administration officials said today.
Signs expected to hint war is near 3/10
Watch the moon. Ideally, U.S. forces want to begin the war at night and do it on an evening when the moon is dark. In March, the moon will be at its brightest on the 18th, when it is full. It grows gradually darker a week later and is very dark on March 27th. A new moon, when the moon is darkest, arrives April 1.
Saddam Had Bio, Chemical Counterattack Plan in '91 War 3/10
Saddam Hussein secretly planned to launch 75 missiles armed with chemical or biological warheads during the 1991 Persian Gulf War if Baghdad were hit with nuclear weapons, according to a new report by U.N. weapons inspectors.
See also:
His survival strategy is probably hopeless. But he has every reason to believe he can sway world opinion. And if that fails, he can turn a surgical U.S. invasion into a bloody nightmare
Iraqi public well-armed and wary 3/10
Iraqi civilians are dusting off their firearms, constructing oil-filled trenches and preparing for civil unrest.
Britain and US spell out steps to avoid attack 3/10
Britain and the US have been forced into more concessions in their demands on Saddam Hussein in a desperate attempt to try to win over wavering countries on the UN security council. Bowing to pressure from the swing states in the last days of frenzied lobbying, America and Britain agreed yesterday to set out the precise acts of disarmament Saddam would have to undertake by March 17 to avoid war, rather than demanding wholesale disarmament.
Iranian-backed militia moves into northern Iraq 3/10
Several hundred soldiers belonging to an Iranian-based Iraqi militia have set up a secret military camp deep in northern Iraq, in a move likely to alarm Washington.
Powell's Credibility Rides on U.N. Vote 3/10
Having persuaded President Bush to work through the United Nations to confront Baghdad, Powell must now try to deliver Security Council approval for Bush's plan to forcibly disarm Iraq and oust its president. His credibility rides on a favorable vote, as does his standing as a counterweight to the administration's hard-liners.
On Iraq, Congress Cedes All the Authority to Bush 3/10
The United States is teetering on the brink of war with Iraq. Edgy citizens brace for terrorist retaliation. The United Nations is consumed by the looming conflict. The Turkish and British parliaments are riven over U.S. war plans. But back in "the world's greatest deliberative body," the U.S. Senate spent most of last week mired in a partisan brawl over a single federal judge. The House, meanwhile, squabbled over a tax bill laden with special-interest goodies and passed a resolution mourning the death of Mister Rogers.
US forced to consider 'battle lite' options 3/10
Turkey's refusal to allow American troops to be based on its soil has reignited a debate within the US military over the future face of war, giving the "modernisers" a chance to prove that the age of the tank is finally over.
Kurds will fight back if Turkey enters Iraq 3/10
THE most powerful Kurdish militant group has threatened to resume its war with Turkey, should Ankara's Armed Forces enter northern Iraq.
New clues in bin Laden hunt lead to dead ends 3/10
The hunt for the world's most elusive terrorist has intensified dramatically in the past week but so far has been a frustrating mission that has led hither and yon.
North Korea Test-Fires Missile 3/10
North Korea fired a surface-to-ship cruise missile toward the Sea of Japan on Monday, Japanese media said, escalating a crisis over the Stalinist state's nuclear ambitions.
Powell, Rice Reject Direct Talks With North Korea 3/10
Top Bush administration officials said Sunday the time still isn't ripe for one-on-one talks with North Korea, despite concerns that North Korea is moving rapidly to develop new nuclear weapons.
US voices Iran nuclear concern 3/10
The US Secretary of State, Colin Powell, says Iran has a more developed nuclear weapons programme than had previously been thought.
U.S. in a Tough Position As Isolation Increases 3/6
The Bush administration this week has become increasingly isolated in the world over its determination to topple the Iraqi government, leaving it in a diplomatically difficult position in advance of a critical U.N. Security Council meeting Friday.
U.S. May Consider Compromise on Draft Resolution 3/6
Facing the possibility of defeat at the United Nations, the Bush administration said Wednesday it is prepared to consider compromise language for the draft resolution on Iraq to ensure its passage.
US divided over post-war Iraq 3/6
A battle is being waged within the Bush administration over plans for rebuilding and governing Iraq after Saddam Hussein is overthrown. Having lost its fight to prevent a war to force "regime change", the State Department is leading the attempt to stop the Pentagon installing Ahmad Chalabi, leader of the Iraqi National Congress, as interim leader of Iraq.
U.S. Seeks Expulsion of 300 Iraqis From 60 Countries 3/6
Two U.N.-based Iraqi diplomats were ordered Wednesday to leave the country and the United States asked 60 countries to expel alleged Iraqi agents who, U.S. officials said, may be poised to attack American interests overseas.
The Bush administration says it wants to establish democracy in postwar Iraq, hoping that will help transform the Middle East by promoting democratic values to other nations in the area. But the surprise vote against U.S. troops here in the region's only Muslim democracy -- and Turkey's long tug of war between authoritarian and democratic rule -- are reminders of what a difficult task that could be, and how unpredictable democracy can be for U.S. interests.
Pentagon planning won't wait for Turkish approval 3/6
The Pentagon is moving ahead with plans to invade Iraq even if it cannot base a large U.S. ground force in Turkey.
Blix: Iraqis quizzed 'on UN terms' 3/6
UN inspectors have interviewed seven scientists in connection with Iraqi disarmament "completely on our terms", weapons chief Hans Blix has said.
U.N.'s Blix More Upbeat on Iraq Than U.S. Officials 3/6
In contrast to the Bush administration, chief U.N. arms inspector Hans Blix said on Wednesday that Iraq had stepped up disarmament cooperation recently and he hoped war could still be avoided.
Al Qaeda-Pakistani ties deepen 3/6
This week's arrest of Al Qaeda's third-in-command was at once a tremendous coup for Pakistan's oft-maligned government and also a stunning embarrassment.
Iran-backed forces join those vying for influence in N. Iraq 3/6
Prepping for post-Hussein power grab, Shiite soldiers are building a large camp in Kurdish-controlled areas.
Increased flights in southern Iraq 3/6
U.S. and coalition warplanes have dramatically increased the number of missions they fly over southern Iraq, focusing on mobile missile systems being moved into the area, military officials told CNN Wednesday.
Why US is reacting quietly to N. Korea's provocations 3/5
Administration hopes lack of response to hostile acts will force others in the region to shoulder responsibility.
U.S. Sending 2 Dozen Bombers in Easy Range of North Koreans 3/5
Senior Pentagon officials said today that two dozen long-range bombers would be sent to Guam, within easy striking range of North Korea, after President Bush said that if diplomacy failed, he might be forced to turn to military options to prevent the North from making nuclear weapons.
Force is next resort, Bush tells Pyongyang 3/5
President George Bush gave notice yesterday that the US will resort to military force against North Korea if diplomacy fails to stop it building a substantial nuclear arsenal.
UN leaders draw up secret blueprint for postwar Iraq 3/5
THE United Nations has drawn up a confidential plan to establish a post-Saddam government in Iraq in a move that suggests its leaders now consider war all but inevitable.
Blix to tell UN: Iraq is still dragging its feet 3/5
The UN weapons chief, Hans Blix, is likely to deliver a critical report to the security council on Iraq's cooperation with the inspectors, noting that Saddam Hussein has routinely exploited looming deadlines to deliver last-minute results, a senior UN official said yesterday.
The prospect of a double veto by Russia and France of a new Security Council resolution on Iraq has been raised by the Russian Foreign Minister Igor Ivanov.
Bush isolated by failure to learn father's lesson 3/5
A DECADE ago the first Bush Administration assembled the most powerful military coalition in history, with 34 nations prepared to contribute soldiers, funds and political muscle in the war to oust President Saddam Hussein from Kuwait.

Yesterday that formidable alliance seemed a distant memory as America, after a series of spectacular bungles, struggled to keep its handful of allies on board for the next war on Iraq.
Rummy sees things differently
Rumsfeld claims more support than in 1991 3/5
More countries would back an American-led war on Iraq than the 33-strong coalition in the 1991 Gulf war, even without a second UN resolution, Donald Rumsfeld claimed in an interview broadcast last night.
Anti-war nations increase pressure 3/5
With time running short before a crucial United Nations vote next week, the diplomatic challenge for the United States grew steeper Tuesday as opponents of war with Iraq dug in their heels.
Top General Sees Plan to Shock Iraq Into Surrendering 3/5
The nation's top military officer said today that the Pentagon's war plan for Iraq entailed shocking the Iraqi leadership into submission quickly with an attack "much, much, much different" from the 43-day Persian Gulf war in 1991.
US hits its 'magic number' of troops 3/5
America has ordered an additional 60,000 troops to the Gulf, including all 17,000 soldiers of the 1st Cavalry Division, officials announced yesterday. The deployments bring the total number of allied forces either in or heading towards the region to more than 275,000. The "magic number" of a quarter of a million troops is often cited by officials as their target for an invasion force.
In Minnesota, a town of veterans divides over Iraq war 3/5
The issue: an antiwar resolution quietly passed the previous week by the city council during a sparsely attended meeting. The vote made Ely one of more than 100 cities and towns in the US to take a public stand against war with Iraq. Now, with a group of veterans leading the charge as if it were D-Day all over again, most of the residents stuffed into the courtroom wanted to make Ely the first American city to rescind its antiwar resolution.
US diplomatic strategy in Turkey based on outdated roadmap 3/5
According to conventional wisdom, there was no question whose arm would fold when Turkey went elbow-to-elbow with its superpower ally. But the conventional wisdom that has shaped ties between the US and Turkey since World War II may have proven to be an outdated playbook for reaching a deal to base tens of thousands of US troops here for a war against Iraq.
In Defeat of U.S. Plan, Turks See a Victory for Democracy 3/5
When Turkish lawmakers rejected a resolution last week that would have allowed as many as 62,000 American combat troops to set up a base against Iraq, they did not just complicate the Bush administration's plans for war.In the eyes of many Turks, they ushered in a new era in Turkish democracy. Messier and more unpredictable than what came before it, perhaps, but a system that is proving more open than what most Turks have seen.
Kurds' vow to fight Turkish invaders poses new problem for Bush coalition 3/5
The American plan to form a northern front against Saddam Hussein slipped deeper into crisis yesterday when Kurdish leaders made clear they would resist any attempt by Turkey to occupy Iraqi Kurdistan, even if it was a member of the American-led coalition.
Congress largely silent on Iraq war 3/5
Since the passage of House and Senate resolutions last fall authorizing the president to proceed to war, the debate in Congress over Iraq has been spotty and, with just a few exceptions, timid.
US will target 50 top Iraqis for capture or elimination 3/5
About 50 top Iraqi leaders closely associated with President Saddam Hussein will be targeted for capture or elimination if the United States goes to war against Baghdad, The Wall Street Journal reports.
Iran-backed militia moves into position 3/5
On a sloping mountain plateau a dozen miles inside northern Iraq, fighters from a shadowy Iranian-backed militia were setting up camp yesterday.
Alarm as Iranians open atomic plant 3/5
Iran will start operating a uranium processing plant within the next few weeks, it said yesterday, a move that has long concerned experts as a stage in the possible development of nuclear weapons.
'Al-Qaeda brain' praised as hero 3/5
Khalid Sheikh Mohammed - the alleged al-Qaeda mastermind arrested last weekend in Pakistan - is a "hero of Islam", Pakistan's largest Islamic party has said.
How al-Qaeda 'chief' was caught 3/5
The arrest in Pakistan of alleged terror mastermind Khalid Sheikh Mohammed came after a series of near misses, US and Pakistani intelligence officials say.
North Korea MiG's Intercept U.S. Jet on a Spy Mission 3/4
Four North Korean fighter jets intercepted an unarmed United States Air Force spy plane on a surveillance mission over the Sea of Japan on Saturday, and came within 50 feet of the American aircraft, military officials said today.
U.S. will wait out N. Korea situation 3/4
Bush administration officials expect North Korea to escalate its nuclear confrontation with the United States by beginning to reprocess spent nuclear fuel in the coming days or weeks, but the United States will not respond militarily, administration and congressional sources say.
All war, all the time.
Military Wants Its Own Spies 3/4
... officials said a major objective of the new spy plan is to produce more "actionable intelligence," a Pentagon buzzword for information leading to military operations.
U.S. faces tough decisions on Iraq 3/4
The Bush administration's hopes for swift military action against Iraq were challenged Monday when Turkish lawmakers rejected deployment of U.S. troops to launch a strike into northern Iraq, while Baghdad stepped up cooperation with U.N. inspectors. Despite these developments, which emboldened U.S. opponents, the administration said Monday it wanted a vote next week on its U.N. resolution authorizing war against Iraq.
U.S. Aides Dismiss Moves by Baghdad but Feel Pressure 3/4
The White House declared today that Iraq's efforts to destroy missiles and convince the United Nations that it was cooperating with weapons inspectors was "the mother of all distractions." But inside the administration, officials feared efforts to put additional military and diplomatic pressure on Saddam Hussein were becoming more complicated.
Iraq Destroys More Weaponry as Warplanes Strike 3/4
Iraq felt the stings of both war and peace on Monday as allied warplanes hit communication sites in the south and the government tried to forestall a U.S.-led invasion by destroying more missile equipment while promising to answer long-standing questions about biological and chemical weapons.
No-fly zone raids 'opening new war' 3/4
The government yesterday came under strong pressure to explain the purpose and role of the no-fly zone over southern Iraq as British and American aircraft struck five more military targets.
US Wants UN Vote on Iraq Next Week 3/4
The United States said on Monday it wanted a vote next week on its U.N. resolution authorizing war against Iraq but some undecided nations still hope for a compromise that would delay military action.
But not if there aren't the votes:
U.S., Britain Set Timetable at U.N. 3/4
The United States and Britain have agreed that it is pointless to continue a U.N. Security Council debate over Iraq beyond next week, but are unlikely to press for a vote on their new resolution authorizing war unless they are assured of the necessary nine-vote majority, U.S. and diplomatic officials said yesterday.
300 SAS troops already in Iraq 3/4
Several thousand allied special forces, including more than 300 SAS personnel, are already operating inside Iraq. This suggests that, despite efforts to secure a United Nations resolution backing force, the war has begun.
US orders more troops to Gulf 3/4
The United States has ordered an extra 60,000 troops to head for the Gulf as it presses ahead with plans for a possible invasion of Iraq.
Philippines, U.S. Fail to Agree on Exercises Involving Possible Combat for U.S. Troops 3/4
The Philippines and the United States are examining other options in the fight against Abu Sayyaf Muslim extremists after failing to agree on a combat role for U.S. troops, Defense Secretary Angelo Reyes said Monday.
More Naked Australians
US prepares to use toxic gases in Iraq 3/3
The US is preparing to use the toxic riot-control agents CS gas and pepper spray in Iraq in contravention of the Chemical Weapons Convention, provoking the first split in the Anglo-US alliance. "Calmative" gases, similar to the one that killed 120 hostages in the Moscow theatre siege last year, could also be employed.
Liberation, G.W. Bush Style
War may force 600,000 to flee Iraq, says UN 3/3
THE head of the United Nations refugee agency yesterday said he expected 500,000 to 600,000 people to flee Iraq if the country came under attack, and appealed to neighbours to accommodate them at their borders.
Fox News: We Can't Afford Peace
Study: Costs of Inaction Against Iraq Add Up 3/3
Much discussion lately has been centered on the expenses a war with Iraq will incur, but some analysts are pointing out that the cost of not making war may be greater than the cost of a conflict.
Revealed: US dirty tricks to win vote on Iraq war 3/3
Details of the aggressive surveillance operation, which involves interception of the home and office telephones and the emails of UN delegates in New York, are revealed in a document leaked to The Observer.
Allies bomb key Iraqi targets 3/3
Britain and the United States have all but fired the first shots of the second Gulf war by dramatically extending the range of targets in the "no-fly zones" over Iraq to soften up the country for an allied ground invasion.
MUST READ:
A higher calling: It is his defining journey—from reveler to revelation. A biography of his faith, and how he wields it as he leads a nation on the brink of war.
A Stalwart of Certainty: Bush Undeterred on Iraq 3/3
The political and logistical obstacles to realizing President Bush's apparent goal of ousting Saddam Hussein within weeks seem to keep mounting.

Billions of dollars in promised aid have not yet persuaded Turkey to open its bases to American troops. Most members of the Security Council are still demanding both more time for inspections and better evidence that Mr. Hussein cannot be contained except by war. And Mr. Hussein himself — just as the White House predicted — has begun blowing up a few Al Samoud missiles in hopes of averting an American invasion.

And yet President Bush not only sounds more certain than ever that he is about to lead the United States into war — he talks almost as if Mr. Hussein has already been deposed.
The World Casts a Critical Eye at Bush's Style of Diplomacy 3/3
"If we're an arrogant nation, they'll view us that way," George W. Bush said during his 2000 presidential campaign. "But if we're a humble nation, they'll respect us."
Interest in post-war Iraq may wane 3/3
A think tank has warned that the United States may soon lose interest in Iraq after a possible war to topple President Saddam Hussein, leaving the same repressive power structure in place.
Cost of War Remains Unanswered Question 3/3
The Bush administration's unwillingness to publicly estimate either the cost of a possible war with Iraq or the number of U.S. troops that will be required to stabilize the country afterward is triggering complaints among Democrats as President Bush and Defense Secretary Donald H. Rumsfeld work to build support for forcibly disarming the Iraqi regime.
Putin affirms anti-war stance 3/3
Russian President Vladimir Putin has restated his firm opposition to a possible US-led war on Iraq, saying that the current crisis must be resolved through peaceful means.
Criticism of US plans unites Iraqi opposition leaders 3/3
For much of the past decade, US officials have bemoaned the inability of Iraq's opposition groups to get it together in their struggle against President Saddam Hussein. Now these groups are showing some of that long-missed unity - in part because they object to key elements of the US strategy for overthrowing Mr. Hussein and improving on his regime.
US rethinks tactics after Turkish MPs block troops 3/3
American military planners were urgently reshaping tactics for an invasion of Iraq yesterday after the surprise vote of the Turkish parliament to reject the deployment of some 62,000 US troops to Turkish bases.
French vow to veto 'war by timetable' 3/3
As the Prime Minister continued his telephone diplomacy in an attempt to win the support of other countries, Dominique de Villepin, the French Foreign Minister, widened the gulf between Paris and London by accusing the US and Britain of making "war on a timetable".
Extremists Find Fertile Soil in Europe 3/3
The aftermath of Sept. 11 and the prospect of war in Iraq have increased the numbers of angry anti-American young men who have been pushed into the embrace of Islamic extremism, according to counter-terrorism officials. Extremists are muscling into European mosques, creating new places of worship and winning converts.
Mystery surrounds convenient arrest of the al-Qa'ida mastermind 'behind 11 September' 3/3
The United States badly needed a big victory in its war on al-Qa'ida to counter those critics who said that the violent and fanatically anti-Western network represents a far greater and more immediate threat to Americans than Iraq.
Satellite photos indicating that North Korea is cranking up its nuclear program - turning on its Yongbyon reactor and testing equipment that reprocesses spent-fuel rods - are deepening worries in Japan that Kim Jong Il is approaching a point of no return in his self-styled standoff with the US.
Philippine false start for US combatants 3/3
The United States has been forced into a retreat over plans to deploy more than 1700 troops against Islamic terrorists in the southern Philippines after a fierce local political backlash.