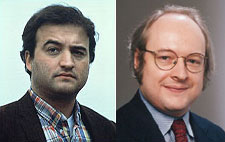 Separated at birth? Delta house pledgemaster Bluto Blutarsky and web site usability master Jakob Nielsen.
bandwidth blues for years to come
Despite all the hype about DSL and cable modems, the Gartner Group predicts that in 2004, 60% of residential internet users will still connect with analog modems (top speed: 56 kbps).

Content providers and site developers that target the home market should consider this, and conserve bandwidth by building sites that download reasonably fast over slow connections.