While I'm trying to line up a well, septic, foundation, and ... a *driveway*, my wife insisted on me laying out the kitchen. 🤔
We have a galley kitchen in our Edina house and love it. So, much like we're copying our current den, we're trying to copy our current kitchen, too.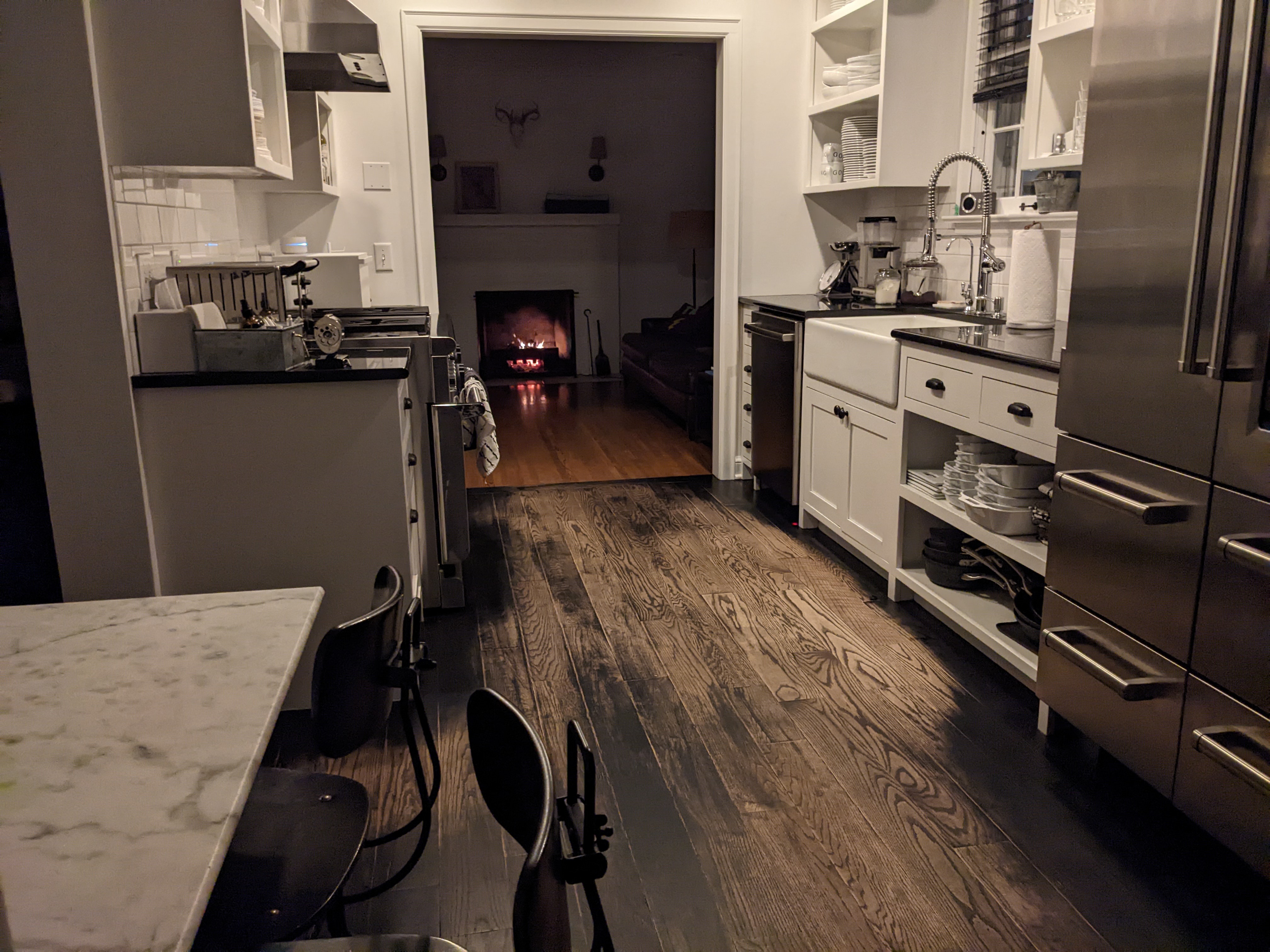 Somehow my drawing ended up having 11' between posts, and 9' of wall against the stairs, which makes this layout math so simple even I can figure it out.
On the exterior wall, left-to-right, is a 2' pantry, 1.5' dishwasher, 2' sink, 2x 1.5' cabinets, and a 2.5' fridge.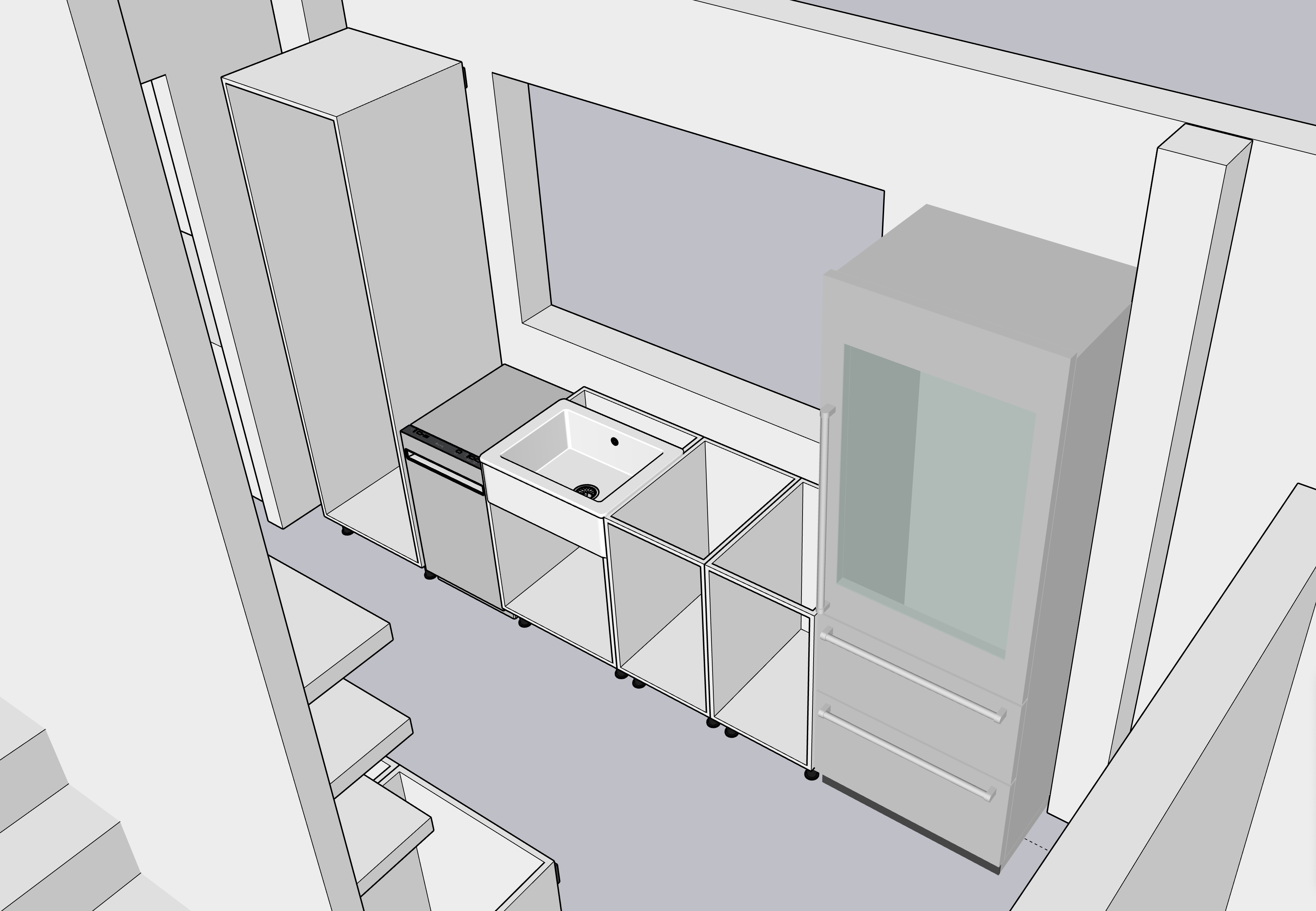 Explanation and rationale:
"Kitchen work line." We don't really cook, so more important for us than a "kitchen work triangle" is a "kitchen work *line*" running from the fridge to the sink. 99.5% of our takeout is unpacked in this space, as evidenced by the wear pattern patina on the floor. (It's at least as patinaed as the space in front of the sink.) Having 36" of counter-top between fridge and sink, with two silverware/knife/utensil drawers below is incredibly handy and efficient. I don't think I would build a kitchen without this setup.
Windows where cabinets should be. On a .25 acre urban or inner-ring suburban lot, the kitchen often ends up looking into your neighbor's living room, so a single window above the sink is about all you want. Even though this wall is facing east (the non-water view), there are a lot fewer neighbors to see, so we're sacrificing shelves/cabinets for glass.
Signature refrigerator. This was unintentional, but the refrigerator is turning out to be a focal point not just for the kitchen but for the entire MVC. It's in view at every turn, so in the drawing now is a ridiculously expensive 30" Sub-Zero with a glass door. We plan on offsetting this expense by doing IKEA cabinets.

😉
On the 9' wall is a 1' cabinet, a 2' range, and 3x 2' cabinets. We'll put all our plates and glassware on 3 floating shelves made from some of the trees I cut down.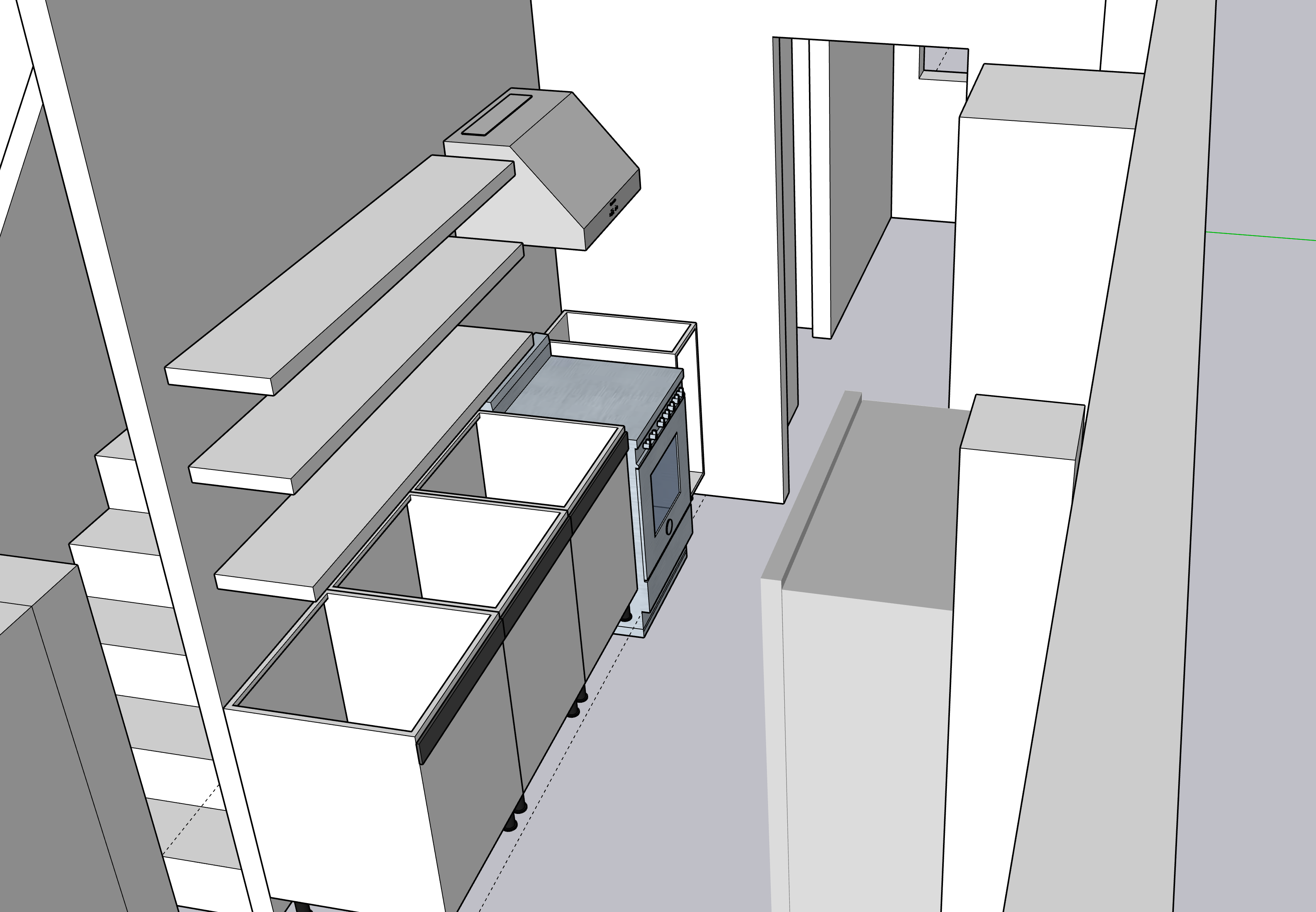 Explanation and rationale:
Baby *does* get put in a corner. We use our current range for scrambled eggs and frozen pizza, so we're going with a mini 24"-wide range, sacrificing symmetry, and getting it off to the side to make room for ~6'-wide shelves.
On the next kitchen post I'll break down the prices for all this stuff. Love it? Hate it? Completely indifferent? Let me know at dack@dack.com.