September 30, 2005
If you're too busy following stories on Katrina, Rita, Justice Roberts, Tom DeLay, the GOP meltdown, and that whore Judy Miller, you might miss out on the ongoing disaster that is Iraq. It would qualify as today's dose of Extreme Schadenfreude ... if so many people weren't fucking getting killed: 85 100 dead in a series of car bomb attacts yesterday. 14 US troops dead in 3 days. A single batallion of Iraqi troops able to fight on their own. Clusterfuck does not do it justice.
This just in: Retired General William Odom, now a scholar at the Hudson Institute and regular guest on cable news and PBS, is quoted as saying, "The invasion of Iraq I believe will turn out to be the greatest strategic disaster in U.S. history."
-------
Does this mean we can stop being allies with a guy who boils prisoners to death?
September 29, 2005
All-time most obvious daily dose of Extreme Schadenfreude:
DeLay Indicted in Texas Finance Probe

Although the indictment had been rumored for weeks among top Republicans, based on what several described as a difficult meeting in August between DeLay and the Texas prosecutor behind the case, it shook the GOP political establishment and posed new problems for the party as it heads into the midterm elections next year.
September 28, 2005
The Aeron Chair Sucks page is always guaranteed to bring them in:
FROM: (name withheld)
TO: dack@dack.com
SUBJECT: Aeron Chair

Hi! I know this is an odd question but did you find the Aeron chair chafes the buttocks? I know that sounds oh-so Forrest Gump but seriously I got my chair about 2 months ago and have developed two red chafe marks on the base of my butt exactly where I sit and it is painful and embarrassing in a bikini! Have thought about getting a ROHO adjustable cushion but they don't exactly fit on my Aeron that I can tell.

If you have had any feedback, please let me know. I am at my wit's (butt's) end lol
And my response:
Marianne:

Sorry, I don't have any experience with a chafed butt on the Aeron, just chafed khakis. Are you wearing pants? I can definitely see skin-on-Aeron contact causing chafe marks on your ass.

Good luck.

Dack
September 22, 2005
Well, this is definitely not good news:
Beer and spirits boost colon tumor risk

Beer and spirits drinkers face a higher risk of colorectal tumors, but wine drinkers may have a lower risk, according to a report in the American Journal of Gastroenterology.

"Alcohol is pernicious with regard to colorectal" tumors, Dr. Joseph C. Anderson from Stony Brook University, New York told Reuters Health. "Lifestyle plays a role as genetics does in the development" of these tumors.
September 21, 2005
After a long hiatus, GYWO is back, Katrina style: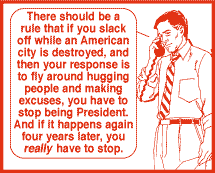 September 20, 2005
How fucked up is this:
British Soldiers Clash With Iraqi Police in Basra

Heavy clashes erupted Monday between Iraqi police and British soldiers based in Basra, Iraq's second-largest city, witnesses said.
And then the rioters joined in, setting this poor chap alight: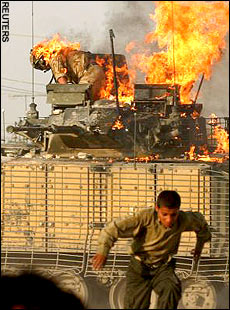 -------
Ahhhh .... the sweet smell of failure. ES for Tuesday, September 20:
President sinking in ratings

Americans' views of President Bush and his leadership have soured in the wake of dismay over the government's response to Hurricane Katrina, the course of the Iraq war and the future of the economy.

Bush's rating for handling each of those issues dropped to his lowest yet in a USA TODAY/CNN/Gallup Poll taken Friday through Sunday. Assessments of his personal qualities also fell: For the first time, a majority says he isn't a strong and decisive leader.
And in a hopeful sign, a solid majority of Americans realize the obvious:
Nearly two-thirds of those polled, 63%, say some or all of the U.S. troops in Iraq should be withdrawn. A record-high 59% say it was a mistake to invade.
September 19, 2005
Netflix delivered a gem the other day: Overnight, a documentary about the rise and fall of Troy Duffy, a bartender whose script for The Boondock Saints was picked up by Harvey Weinstein of Miramax and made into a film.

And my review:


If schadenfreude is your thing, then you will *love* "Overnight." Troy Duffy is such a completely clueless, arrogant asshole that it's fun to cheer against him and watch him fail. He deserves everything he got ... but I did check out his IMDB page to see what he's up to, and a "Boondock Saints" sequel is in production.
Highly recommended. And likely an addition to the Extreme Schadenfreude Hall of Fame.
September 15, 2005
Extreme Schadenfreude for Thursday, September 15:
Support for Bush Continues to Drop, Poll Shows

A summer of bad news from Iraq, high gasoline prices, economic unease and now the devastation of Hurricane Katrina has left President Bush with overall approval ratings for his job performance and handling of Iraq, foreign policy and the economy at or near the lowest levels of his presidency, according to the latest New York Times/CBS News Poll.
September 14, 2005
All hail Billmon: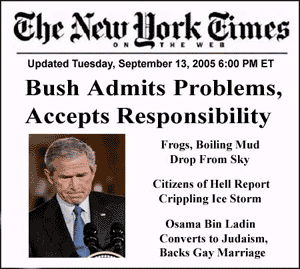 -------
So your asinine Iraq Adventure is a huge fucking mess? Blame Syria!
U.S. Will Stick With Iraq Mission, Bush Pledges

Bush also intensified American pressure on Syria, saying that he was working to isolate Damascus because it allowed insurgents to cross its eastern border into Iraq and continued to meddle in the affairs of neighboring Lebanon.
Tucked a few grafs down is this gem:
Bush's view of the U.S. military mission in Iraq continues to differ slightly from that of Pentagon officials, who consider it unlikely that U.S. forces will be able to defeat the insurgency. Bush says the U.S. objective is to defeat the insurgents, but American commanders have stressed that Iraqi forces would need to continue the battle after U.S. forces have departed.
September 13, 2005
Your daily dose of Extreme Schadenfreude:
Bush's Approval Rating Drops To New Low in Wake of Storm

The bungled response to the hurricane has helped drag down Bush's job-approval rating, which now stands at 42 percent -- the lowest of his presidency -- in the Post-ABC poll and down three points since the hurricane hit two weeks ago. Fifty-seven percent disapprove of Bush's performance, a double-digit increase since January.
-------
Remember that classic scene in The Naked Gun where Frank Drebbin goes to the "disaster" bar with pictures of the Titanic, the Hindenburg, and Michael Dukakis on the wall? Here's another for all-time: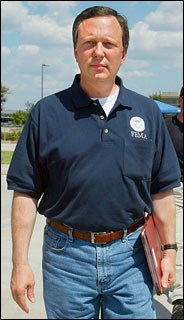 And add this bloated bozo: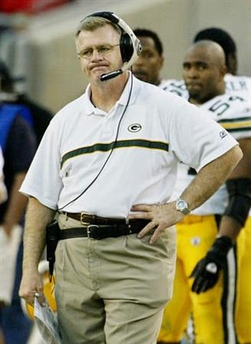 September 9, 2005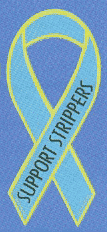 We have multiple winners for the Support Strippers ribbon magnet. They are available online, along with lots of other fun ribbon magnets from bizzarefun.com at the bottom of this page. Runner-up has to be "Support Road Head."
They are also available at your local Spencer Gifts. They also have ribbon magnets that say "Support Lap Dances," which I may buy for my wife's car.
September 8, 2005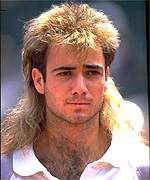 All Hail Agassi!
I've been a huge Agassi guy since the mullet days (pictured above), and he added to the legend last night in a 5-setter against Blake. What he's doing at the age of 35 is nothing short of remarkable. Tennis is a young man's game: Federer is 24. Nadal 19. Roddick just turned 23. Only 4 players (including Agassi) in the top 30 are over 30. Agassi is 35 and in the semis at the Open.
September 7, 2005
I'm really liking what Simple is doing with their shoes these days.
In The Bag: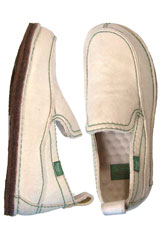 Simple "Loaf" shoes, via Urban Outfitters. $90.
Soon to be In The Bag is another pair of Simple shoes, specifically these slides: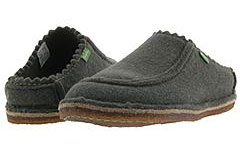 Simple "Shuf" slides, via Zappos. $83.95, with free shipping.
September 6, 2005
Tim Russert, dishing up some material for today's edition of Extreme Schadenfreude:
MR. RUSSERT: People were stunned by a comment the president of the United States made on Wednesday, Mr. Secretary. He said, "I don't think anyone anticipated the breach of the levees." How could the president be so wrong, be so misinformed?
-------
I finally got out to see a movie in a theater this summer, and picked a stinker: Wedding Crashers. My cin-o-matic review:

Holy cow, what a disappointment. There are a few modest laughs in the first 30 minutes, but the painful remaining rom-com 1:30 makes you completely forget them. The script is so chock full of cliches it seems like it was written by a high-schooler; possibly junior college (the gay thing with the painter and Vince Vaughn is fully abhorrent). On the plus side, Rachel McAdams is lovely and charming and radiant *sigh*. Vaughn oozes charisma, but looks like he's been eating nothing but Krispy Kremes since Old School. Dude, mix in a salad! He's got to be panicked about the receeding hairline, too. With such a shitty script even his talents are almost completely wasted. For once, Roger Ebert is dead on.
-------
In The Bag: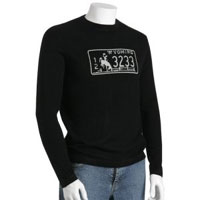 Autumn Cashmere black cashmere 'Wyoming' intarsia sweater, via Bluefly. Price witheld.
September 1, 2005
Finally, the Last Throes! Or were the Last Throes in May? Maybe next May?
U.S. Death Toll In August Is Third Highest

U.S. forces in Iraq suffered at least 74 combat deaths in August, more than in any month since November and the third-highest total for any month of the war, according to Pentagon figures.

It was also the highest monthly death toll outside major combat operations. The only months with heavier combat losses were April 2004 (126 killed) and November 2004 (125 killed), when U.S. forces launched full-scale assaults in the western town of Fallujah.
August 31, 2005
Keeping our promise to be your home for Extreme Schadenfreude:
President's Poll Rating Falls to a New Low

Rising gas prices and ongoing bloodshed in Iraq continue to take their toll on President Bush, whose standing with the public has sunk to an all-time low, according to the latest Washington Post-ABC News poll.
August 30, 2005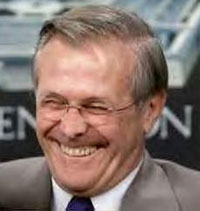 It's definitely not good news when Rummy, who's been wrong on everything, claims the U.S. Will Not Lose In Iraq. Might as well pack up the bags now.
Says Rummy: "People who want to toss in the towel were wrong yesterday, they're wrong today, and they'll be wrong tomorrow." Replace "People who want to toss in the towel" with "Me, Shrub, Dick, and Condi" and he'd finally be onto something.
August 24, 2005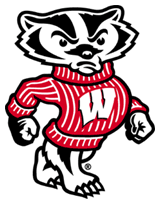 I'm a day late on this one, but my alma mater returned to its rightful place as America's top party school. Those lamers from SUNY-Albany had the top spot last year (pul-eeeeeze) and are now #5. You know, that whole party school thing might have a lot to do with a certain alumnus weblogger's love affair with cocktailing.
-------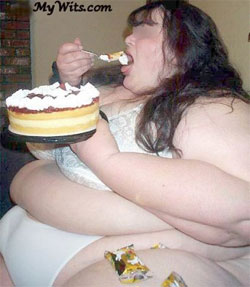 $100 says this chick is from a red state.
Yesterday the CDC published state data on obesity, and the south is just chock full of chubbers. The top 10 fat-ass states:
1. Mississippi
2. Alabama
3. W. Virginia
4. Louisiana
5. Tennessee
6. Texas
7. Kentucky
8. Michigan
9. Indiana
10. South Carolina

And yet more red state fatness:

11. Arkansas
12. Georgia
13. Ohio
14. Oklahoma
15. Pennslyvania
16. North Carolina
17. North Dakota
18. Missouri
19. Alaska
20. Iowa

Almost a clean sweep. 18 of the top 20 fattest states are red. Someone should look into this. Is there cause and effect? Do you vote GOP because you're fat? Or does voting GOP *make* you fat?
August 23, 2005
The dack.com daily dose of Extreme Schadenfreude (ES):
George W. Bush's Job Approval Ratings Drop

Among all Americans, 36% approve of the way Bush is handling his job as president and 58% disapprove.
An all-time low.
-------
ES citing #2. We killed a bunch of people and spent 1/3 trillion dollars for this?
Iraqis Submit Charter, but Delay Vote

Iraq's Shiite Muslim majority and its Kurdish allies moved Monday toward fundamentally reshaping their nation, submitting a proposed constitution that would create a loose federation with strongly Islamic national laws.
-------
ES citing #3.
Gas prices jump to record high of $2.61 a gallon
-------
ES citing #4. Some people actually own one: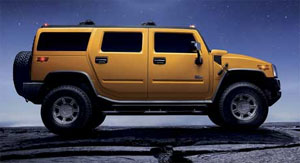 August 22, 2005
About that war we won back in 2001:
G.I. Death Toll in Afghanistan Worst Since '01

This year is already the deadliest for American soldiers in Afghanistan since the war of 2001, and the violence is likely to intensify before the nation's legislative elections on Sept. 18.
August 17, 2005
Forget Extreme Skiing, Extreme Mountain Biking, and Extreme Skateboarding. Here at dack.com we're all about Extreme Schadenfreude:
'Axis of Evil' Policy Foundering

Whereas Bush in his first term vowed to reinvent foreign policy with a new doctrine of military preemption to deal with rogue states, he has largely dropped such talk since the invasion of Iraq in 2003.

[...]

The unexpected difficulties endured in Iraq since the fall of Saddam Hussein in April 2003 have colored the broader efforts against the "axis of evil" states. Tehran and Pyongyang have felt freer to flout American pressure, secure in the knowledge that the U.S. military is tied down in Iraq, analysts said.
Oops!
August 16, 2005
dack.com heartily endorses: Stick-the-Ribbons-Up-Your-Ass-Ribbons. Just $2.99 each: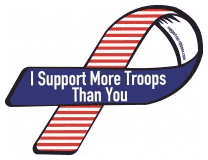 -------
Jesus! Look for him in your mailbox.
Return to sender. Yes!
Perhaps the most vigorous objections came in 2000, when a mailing was done in Palm Beach County, Fla. Thousands of videos in heavily Jewish West Palm Beach were returned, some taped to bricks in hopes that the sender would have to pay the postage, according to news reports.
August 11, 2005
In The Bag: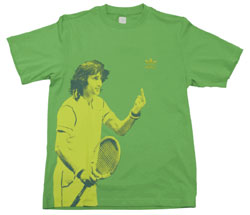 Adidas "Nastase" shirt. Via coolestshop.com. $35. F U! That ball was clearly out!
-------
I wish this hat had a few more skulls and crossbones on it, but I sense it will be a fall favorite on my melon: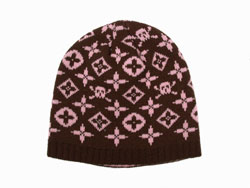 Knit Skull Monogram Beanie, in brown and pink. Via Goorin. $24.
August 10, 2005
Great article: Boredom Numbs the Work World.
-------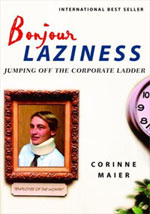 dack.com book rating (0-10): 3

Wow, what a disappointment. Corinne Maier's Bonjour Laziness is touted on the cover as an "International Best Seller." I heard about it several times on public radio and it sounded appealing: a Frenchwoman telling all corporate worker bees to "actively disengage" from work. But it's a bummer. Maybe things are different in France, or something got lost in the translation, but Maier's corporate work experience seems gleaned from reading Dilbert strips; certainly not much resembled my daily toil.

But it's not a total waste. In the back she offers ten =counterproposals to middle management, and this one you can really take to the bank:
Never, under any circumstances, accept a position of responsibility. Additional aggrivation is never worth a few extra bucks a week.
You can get that from the back cover. Call this a can miss.
-------
Yet another innacurate WWII-Iraq comparison from the Bush Administration, this time from Rummy. He compares the Iraqi insurgency to Japanese kamikazes. Apparently his "Nazi werewolf" analogy, used in 2003, is no longer operative.
August 8, 2005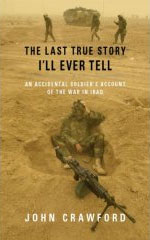 dack.com book rating (0-10): 5

Call me a sucker, I guess.

After reading about John Crawford's appearance on The Daily Show last Wednesday, I ran out and bought The Last True Story I'll Ever Tell, his account of time spent in Iraq with the Florida National Guard. Besides the brilliant and moving final chapter, I didn't find anything here that special or involving, certainly nothing worthy of a Daily Show appearance and heaps of praise from Jon Stewart.

One thing that did strike me was a complete lack of mention -- not even in passing -- of the high-minded misison there. It's all about his buddies, talking to cute Iraqi women, getting a buzz on, and trying to make it back to America in one piece.

Judge for yourself. At just 219 pages of large, leaded type, you can read it in a couple of hours.
August 4, 2005
The "War on Terror" was gone for a few days. And now it's back, so sayeth Shrub.
-------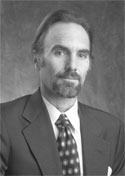 Doggone. It's definitely very sad that Steven Vincent may have died for writing an op-ed in the Times, but this kind of thing drives me batshit zany. From his wife, Ms. Ramaci-Vincent:
He watched the World Trade Center burn and collapse, he saw people jumping to their death from the north tower, and he wanted to do something to help the war on terror. He was too old to enlist. He thought he could go to the war zone and try to open people's eyes to what was happening.
Some foreshadowing in an NRO piece from June:
Beneath the surface, though, this is not the easy-going municipality of 1.5 million people I recall. For one thing, I can no longer wander the streets, take a cab, or dine in restaurants for fear of being spotted as a foreigner: Kidnapping, by criminal gangs or terrorists, remains a lucrative business. Instead, for safety's sake, I'm tied to my hotel, dependent on expensive drivers, unable to go anywhere without Iraqi escort. "You really shouldn't be here at all," a British-embassy official warned me.
August 2, 2005
The Pentagon's fake news flap still has a few legs. Today the AP reports the Pentagon as calling the use of anonymous quotes "egregious." In a real whopper, spokesman Larry Di Rita said his best information is that the quotes are authentic.
-------
Good God: Bush endorses teaching 'intelligent design' theory in schools. In a vaguely related piece, see also: Matt Taibbi's riff on religious conservatives.
[don't underestimate] the American zeal for superstition, for boobism, for living the intellectual lives of farm animals. A large statistical majority of Americans would rather live their whole lives in perpetual fear of the devil than listen to ten minutes of common sense.
In The Bag: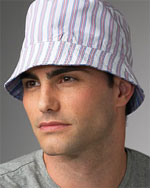 Paul Smith reversible bucket hat; pattern on one side resembling a pair of my pajamas. Via Neiman Marcus. $49. (Me not pictured. Friends say it's a John Kerry + Hugh Grant + young FDR combo platter. Minus the U.S. Senator and presidential candidate, the actor, and former president.)
This was my first time ordering anything at Neiman Marcus online, and the experience is as impressive as the store's merchandise. I don't know if ship everything this way, but my hat was sent next day air. Nice.
-------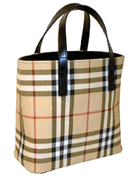 Burberry's Nova Check (pictured above) is so out it's practically already back in, in a sort of ironic kind of way. But if I was feeling a little more flush; well, maybe, a lot more flush, these would have to be In The Bag: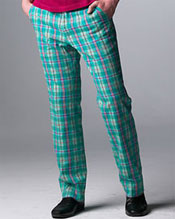 Burberry plaid pants. Via Neiman Marcus. Were $295. Now just $118.
August 1, 2005
Did we invade and occupy Iraq so some fundamentalists can ban alcohol at Baghdad International Airport? How else are passengers supposed to deal with the steep corkscrew ascents and decents, besides getting blotto?
July 29, 2005
Under Heavy Consideration: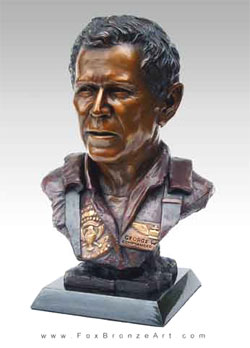 George W. Bush bronze bust, mounted on black granite. $1,995 (reduced!). Via Fox Bronze Art.
July 28, 2005
The July issue of GQ suggested "dark, confident frames emerge as the accessory of the season.":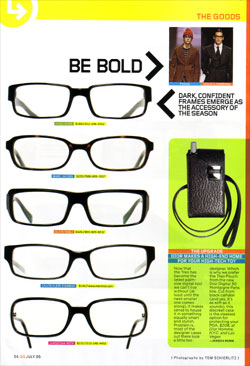 Well, if you want to truly be bold, and save yourself 100s of dollars, check out the new old stock at allyn scura, easily the coolest vintage eyewear shop on the entire triple-dub. For proof, see these gems, an "In the Bag" item from August, 2004.
Why, it looks as though the stylish Saddam Hussein shops at Allyn Scura, too! Taken from Al Jazeera just a couple of days ago, this is a bold, confident look indeed: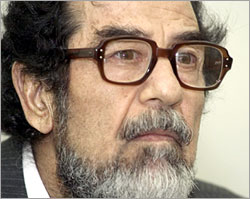 Though not exactly eyeglasses -- more like sunglasses -- I scored this killer pair of vintage French frames at AS at about the same time, for just $50: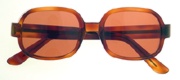 And then tonight I'm flipping through the August issue of GQ, and the imitable Glenn O'Brien (Style Guy) fields this question:
IS BIGGER BETTER? // I am under the impression that big sunglasses are in for men. Is it okay for a guy to wear Jackie O.'s? If so, how does one pull them off? // Pull them off with both hands. But seriously, men, Keith Richards pulled them off. Ric Ocasek must have pulled them off, because Paulina Porizkova married him. Kurt Cobain could pull anything off, including those girls' sweaters with the flowers on them. Big sunglasses are an affectation best affected by the affectless. In other words, you have to be brutally cool to not come off like a Beauty and the Geek contestant or a proto-drag queen. You also have to be thin and hirsute, otherwise unfortunate comparisons to Elton or Moby may ensue. (Don't get me wrong: Looking like Moby is great if you're Moby.) I guess the answer is, if you have to ask, forget it.
If I came off looking like a proto-drag queen, I'd hope my wife would tell me. Honey? You reading this?
July 27, 2005
Bullshit Alert!
New name for 'war on terror'

In recent days, senior administration figures have been speaking publicly of "a global struggle against the enemies of freedom", and of the need to use all "tools of statecraft" to defeat them.
July 26, 2005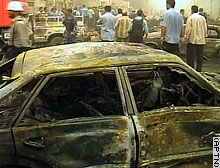 Yo yo yo! Pentagon press hacks! Listen up! The Bomb-A-Tron™ is a joke. And a pretty sick one. It's not real. Got it?
'Enemies of humanity' quote raises Iraq PR questions

The U.S. military on Sunday said it was looking into how virtually identical quotations ended up in two of its news releases about different insurgent attacks.

[...]

A statement about the attack by Task Force Baghdad 3rd Infantry Division contained a three-sentence quote attributed to an unidentified Iraqi. The statement said the Iraqi called the attackers "enemies of humanity" and vowed to "take the fight to the terrorists."
Be just like a Pentagon press hack. Create your own car bomb news story today!
Update: Pentagon says the snafu was a result of "administrative error."
July 25, 2005

Well, on Friday we took our 18-month-old in for his, um, 18-month-old checkup, and the doc said it was time to ditch the bottle. Teddy never liked nuks, so we would do just about anything to keep him quiet, including giving him a bottle until 1.5 years.
Needless to say, the past 48 hours or so haven't been very fun. But then I was thinking ... what if someone took my bottles away, like the beer bottles, the 1.5L French chardonnay bottles, the Don Julio bottles, the Bombay Sapphire bottles, the Pimms bottles, the Basil Haydens bottles ... would I be very happy? No. I'd be about the crabbiest guy on the damn planet.
So I'm cutting Teddy a break.
Cheers.
July 21, 2005

Dude looks less like a Supreme Court justice than a guy from central casting who plays a doctor, business tycoon, or Middle Aged Man With ED.
-------
RIP James Doohan: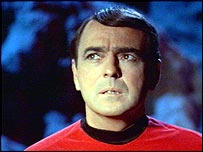 I remember having a debate with the famous Kottke about Old Trek vs. Next Generation. You can probably guess where I come down. Next Generation sucks beyond friggin' belief. Kirk would kick Picard's ass. After stealing his chick. And don't even get me started on Spock vs. Data.
See also: 100 Reasons Kirk is better than Picard.
-------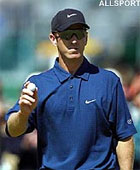 Any golfer considering wearing sunglasses while they play should also consider what's happened to David Duval, my generation's Ian Baker-Finch. But today the NYT, with the help of Senior Tour player and nonpracticing optometrist Gil Morgan, reviews a few.

July 14, 2005
Happy Bastille Day!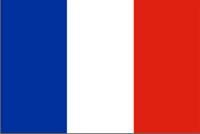 dack.com heartily endorses France. And not just for the wine, cheese, Paris, the Statue of Liberty, and the Citroen. They are a true friend of America, trying to keep us out of the mess that is Iraq; wanting to play the international relations game according to the rules. And they've got a nationwide radio station that plays club tunes. What's not to like?
July 13, 2005
This is classic. Doug Feith, who Tommy Franks called "the fucking stupidest guy on the face of the earth," now admits a few errors in the invasion/occupation of Iraq.
July 12, 2005
Been away for a while. Taking pictues (below) and cocktailing at 11:30 (A.M.) for 10 days can wear a guy out. But it was great. Thanks Jim and Diane.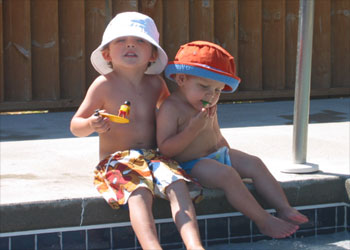 On big bro (left): White purse bucket hat, via e4hats.com, $5.29; floral swim trunks, via Old Navy, $6.99; Playmobil surfer dude, via playmobil.com, $2.99.
On little bro: Bucket hat with grosgrain band (sold out online), via jcrew.com, $4.99; trailer-trash-esque "Little Swimmer" swim diapers (not available online), via Target, about $5 each; some plastic green thing floating in the pool, origin unknown.
-------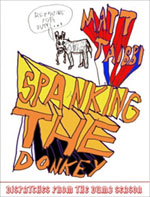 dack.com book rating (0-10): 7

As a fellow atheist anarchist misanthrope, I generally liked Matt Taibbi's book Spanking the Donkey. He pretty well captures the inanity of the '04 election, the media's obsession with the meaningless horserace storylines, the utter vacuousness of everything out of the candidates' mouths, except, of course, Kucinich, who was the only Dem worth a damn. It's essentially a compilation of columns he wrote for the NY Press and Rolling Stone, which is my biggest problem with it; it's nearly a complete copy/paste job. I was glued to Taibbi's Wimblehack! series at the time of publication, which makes up about 20% of the book. Long time Taibbi fans should take a pass, but if you're new to him, it's a great read that will get you thinking in new ways.
My favorite part is a bit from the final chapter, The Next Step, on what progressives and liberals should do in the wake of the Bush victory:
The other side is energized because its vision of the future is clear; it wants a return to the days when the one organizing concept of sexual relations was marriage for life, when patriotism was putting on a unifom and fighting for freedom abroad, when the goal of life was a good job, hard work, kids, the church, a house, and a well-attended funeral.

These are reasonable goals when you know heaven is at the end of it all. That's what it comes down to. They're fighting for a simple path to heaven, while the rest of us are fighting for something a little less exciting: the desire to have a more rational an inoffensive political atmosphere within which to wrestle with the underlying problem of existential despair in a confusing secular world whose only offered paradises are affluence, sexual freedom, and consumer choice.
-------
Speaking of consumer choice, this is perhaps my favorite time of the year to be a conspicuous consumer, when fun summer attire gets absolutely blown out.
In The Bag: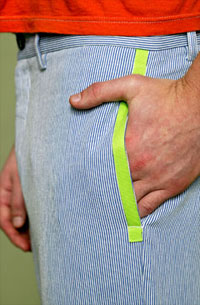 Modern Amusement navy seersucker pants with bright green contrast ribbon, via Urban Outfitters, was $78, now just $29.99.
-------
I haven't been paying that close of attention to what's happening in the blogosphere in the wake of the London bombings, but lemme take a wild guess: the left states the fucking obvious that it's in response to Britain's role in illegally invading and occupying Iraq. The warbloggers, in response, call the left idiots and say they'd be bombing London anyhow, they hate our freedoms, and other stupid shit. Am I about right? Anyone? Anyhow, from today's Christian Science Monitor:
Iraq, Internet fuel growth of global jihad

Investigators still don't know who carried out last Thursday's attacks in London. But they say those responsible were probably Islamist terrorists who viewed their assault as revenge for Britain's part in the Iraq war.

The attacks that killed at least 52 in London follow two years in which the Iraq war has inflamed Islamist hatred of the US and key allies like Britain.

According to US assessments, the turmoil in Iraq has replaced the still-simmering conflict in Afghanistan as the chief recruiter of international jihadis. Analysts say anger over the conflict is helping to spread the ideology of global jihad to young Muslims in Europe.