November 9, 2007
6 Year-Old Needs Agent
My oldest son is in kindergarten now, but before he graduated, his preschool built a new web site and put a certain blue-eyed boy on the home page: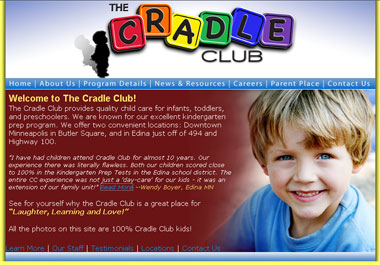 November 8, 2007
Today on Magnificent Bastard
* French President Nicolas Sarkozy wearing a cool lapel pin.
* Wondering about velvet blazers
November 6, 2007
Ain't Nothin' We Can Do About It. Part of the DNA!
Too much eating, drinking drops Minnesota in health ratings

Minnesota is fatter, drunker, and less healthy according to a nationwide survey of health outcomes released on Monday by the United Health Foundation.

Binge drinking appears to be a part of the Upper Midwest culture. Michigan, Minnesota, Nebraska, South Dakota, Illinois, Iowa, North Dakota, and Wisconsin make up 8 of the bottom 11 states in the category.
-------
The explosion of embedded video players has lead to an explosion of incredibly weird, confusing, and downright shitty interfaces. It's a little like seeing the first web pages 12 years ago. Topping the badness list, in spite of the "Facts of Life" clip: Crackle: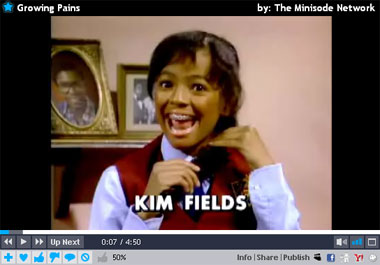 Boy that Kim Fields eventually grew some incredibly large breasts.
Anyhow, taking the cake for worst Flash video player: Viddler. It just don't get uglier.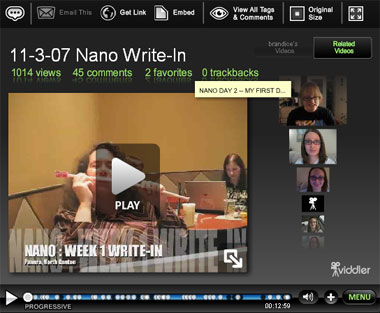 November 1, 2007
American Hero: Lester Burnham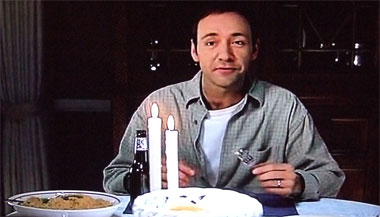 I almost never get sick of watching American Beauty. One of my favorite quotes:
Janie, today I quit my job. And then I told my boss to go fuck himself, and then I blackmailed him for almost 60 thousand dollars. Pass the asparagus.
And my favorite quote:
Brad, for 14 years I've been a whore for the advertising industry. The only way I could save myself now is if I start firebombing.
October 30, 2007
Two Straight Posts Mentioning Jason Kottke
This time it's because my buddy Joel Turnipseed is the guest blogger for the whole week on kottke.org.
Now I'll actually be reading it.
-------
Today on Magnificent Bastard:
* UPS Whiteboard Guy
* Dan Rather and Humphrey Bogart on trenchcoats
-------
So, So Happy I Have Two Sons:
Preteens Trading Fairy Wands for Fishnets

Gabby Cirenza wanted to be a referee for Halloween. The outfit she liked had a micro-mini black skirt and a form-fitting black and white-striped spandex top held together with black laces running up the flesh-exposing sides. She looked admiringly at the thigh-high black go-go boots that could be bought as an accessory. And she thought the little bunny on the chest was cute.

"Absolutely not," said her mother, Cheryl. "That is so not happening."

Gabby is 11.
October 25, 2007
How to Make Jason Kottke Cry
Keeping fractional widths on while using silkscreen.
Barney's Co-Op:

Traffic.com:

October 24, 2007
Oh No, Don't Show That Angle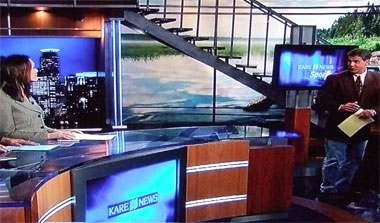 Caught on a recent newscast: Kare 11's Randy Shaver doing the sports in jeans.
October 22, 2007
R.I.P. Max McGee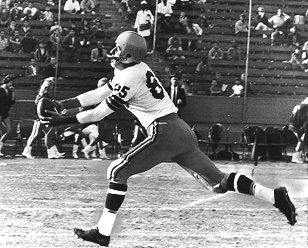 In spite of the complete idiocy of a 75 year-old millionaire blowing leaves off his roof, Packer great Max McGee is the owner of the official dack.com quote:
When it's third-and-10, you can take the milk drinkers, and I'll take the whiskey drinkers every time.
October 18, 2007
Today on Magnificent Bastard

Does HBO hate America, or just have a little style? You decide.
October 16, 2007
More Idiocracy Funny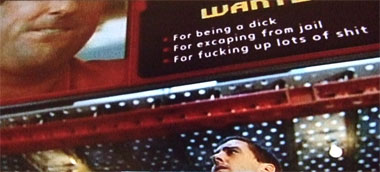 Now I've watched Idiocracy 7 or 8 times and it keeps getting better. There are lots of bits that take 7 or 8 views to pick up on. Above graphic taken after Not Sure gets arrested in the Costco. WANTED!
-------
Brad Bird is the Man
dack.com movie rating (0-10):
9
Easily the best movie I've seen in 2007. I usually fall asleep when I take my kids to animated movies. Not this time.
Ratatouille
is funny, touching, beautifully animated ... I loved it. Is it embarrassing to say I cried at one point? I don't care. This movie is that good.
October 12, 2007
Them guys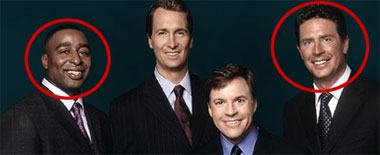 I do really like HBO's Inside the NFL. However, sometimes both Chris Carter and Dan Marino sound like flippin' tards.
Chris and Dan breaking down this Sunday's big New England/Dallas game:
Chris Carter: This is the first huge game that Romo has had since the playoff game. If he can play big in this game I think it erases some of them things we thought when they lost that game in Seattle.
3 seconds later, Dan Marino follows up:
Dan Marino: New England don't make mistakes. Tom Brady just distributing the ball and how they play defense.
Side note: Chris Collinsworth is the best analyst going right now.
October 11, 2007
King of California/Miami
Separated at birth?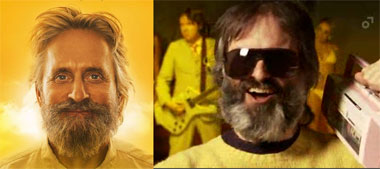 Michael Douglas as the King of California and Phil from the most awesome show The King of Miami?
October 9, 2007
Today on Magnificent Bastard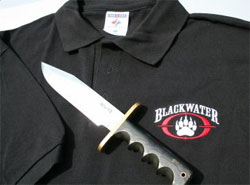 Is it OK to wear a Blackwater Security polo shirt?
See also:
MNFTIU in the fucking house.

October 5, 2007
My Grandfather's Son
Yesterday on All Things Considered, essayist John McWhorter reviewed My Grandfather's Son and says it does nothing to change the widely held impression of Thomas as angry and scowling. I haven't read it (and probably won't) but a few years ago I hung out for a bit with Clarence Thomas in his Supreme Court office and he's as charming, jocular, and easy-going a guy as you'll meet.








October 4, 2007
Chicken Soup for Development Teams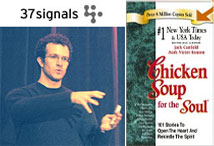 I saw my ol' buddy Jason Fried's presentation at the MIMA Annual Summit yesterday, and while I think a lot of the "Getting Real" pitch veers dangerously close to triteness and preciousness, there was one slide that was almost worth the price of admission:


Have less [sic] meetings.
And a great suggestion to go along with it: When setting up a meeting, make all attendees optional. Co-workers yo! You readin' this? I've got work to do.
October 2, 2007
One Proud Grandson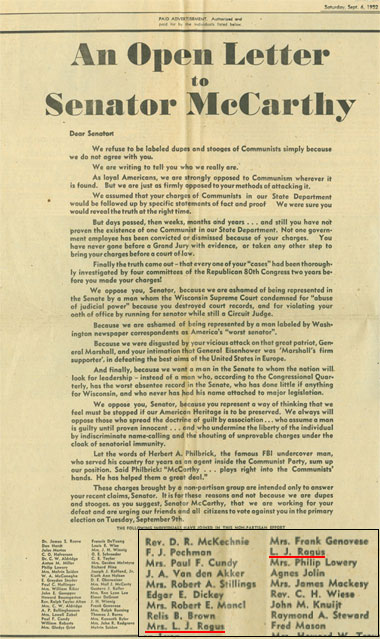 On September 6, 1952 the Appleton Post-Crescent (Wisconsin) published an open letter to Sen. Joe McCarthy, opposing McCarthyism before opposing McCarthyism was cool. L. J. Ragus and Mrs. L. J. Ragus signed it. So flippin' cool.