March 31, 2006
I've been editing cin-o-matic -- incidentally the best damn movie site on the entire triple-dub -- for over two years now, and in that time there's never been a horror flick as critically well-received as Slither, a story about bloodthirsty slugs who invade a small town, enter people's orifices, and turn them into grotesque meat-eating monsters. The only thing close is George Romero's Land of the Dead, which was written by Slither's director, James Gunn. (I'd love to see it but these kind of movies scare me and make me want to be held.)
-------
Speaking of orifices, at the other end of the ratings spectrum is the Sharon Stone vehicle Basic Instinct 2. Referring to Mrs. Stone's "volleyball" breasts, the New York Post's Kyle Smith says: "look closely and you'll be able to see the exact spot where the bicycle pump attaches."








-------
It took a 10 year-long study to figure this out? Long-Awaited Medical Study Questions the Power of Prayer.
March 29, 2006
Democracy on the March in Iraq!
Or at least a march-related activity of some kind...
Thousands of Iraqis Flee to Avoid Spread Of Violence

Sectarian violence has displaced more than 25,000 Iraqis since the Feb. 22 bombing of a Shiite Muslim shrine, a U.N.-affiliated agency said Tuesday, and shelters and tent cities are springing up across central and southern Iraq to house homeless Sunni and Shiite families.
-------
Rush Limbaugh Gets A Bad Rap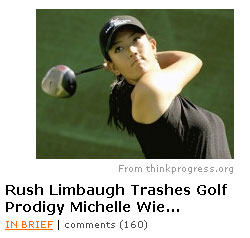 Yes, it's true. A case of knee-jerk liberalism run amok, Think Progress posted an entry claiming Rush Limbaugh "trashes" a golf prodigy. It was unfortunately picked up by The Huffington Post later yesterday.
Limbaugh's crime? Suggesting that (a) Wie is a "triumph of marketing" and (b) saying she's been built up "to a level much greater than her actual accomplishments."
Now, Limbaugh might be a bald, fat (yep, he's still fat folks), drug-addicted ignoramus, but what he said about Wie is obvious to even the casual golf observer and by no means is "trashing" her.
Yes, Michelle Wie is a wonderful golfer with a swing to die for and is only 16 years-old. But she's never even won an LPGA event, and is 0-for-4 in trying to make the cut at PGA events. Win sometime, go and get your PGA Tour card, maybe graduate from high school, and then play on the men's tour all you want ... if you can make it without sponsors' exemptions.
March 27, 2006
Regular readers of this weblog might conclude I'm a Democrat. I can tell you I loathe both parties equally, and perhaps the Democrats more because besides Russ Feingold the Dems are gutless turds. No matter how depraved or stupid their beliefs, at least the GOP stands for something. Partisanship, in my opinion, is silly and even dangerous, because oftentimes it blinds you to the truth. Take, for example, this poll: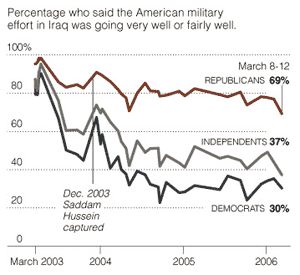 Now, you'd have to either be Stevie Wonder or a regular watcher of Fox News (or probably both) to conclude the military effort "in Iraq was going well or fairly well," yet 69% of Republicans agree with that statement.
Those dopes remind me of this classic scene, except most GOP war supporters are too chickenshit to ever put on a uniform and risk getting their balls shot off: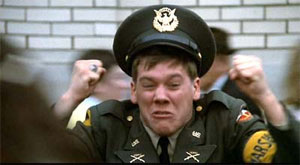 (Come to think of it, imposing Shrub's face on this image of Kevin Bacon could be worth doing.)
-------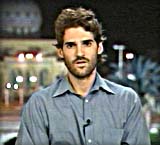 Speaking of Iraq (and balls), a journalist with coconut-sized cajones -- the New York Times' Jeffrey Gettleman -- is back on the beat. The guy was kidnapped by insurgents in April 2004 and thought he was dead, yet recently returned to Iraq again to continue filing killer stories.

(Attention GOP readers: Remain calm. All is well.)


-------
Off The Hook and Under Heavy Consideration: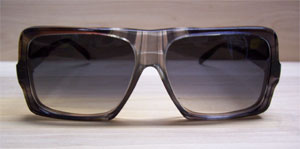 "Tura" vintage sunglasses, via allyn scura. $125.
-------
Normally I think Robert Graham's stuff is horrible, but he's done good with these boardshorts. Unfortunately they dramatically violate my Don't-Ever-Pay-More-Than-$20-For-Swimwear principle: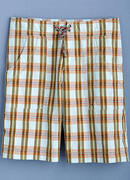 Robert Graham Boardshorts, via Mark Shale. $128.
March 23, 2006


click to enlarge
You've just got to love an anti-globalization documentary with loads of gratuitous nudity. Such is the case with Mardi Gras: Made in China, a doc that shows who makes the Mardi Gras beads women get when they show their knobs on Bourbon Street. (Click to enlarge image and see an enlarged pair, and the guy who stops videotaping for a second to check them out.)

It's won a bunch of awards and critics seem to like it. And there are cans.

Opens tomorrow in NYC.
-------
Potential new slogan for the Minneapolis Convention and Visitor's Bureau:
Culpepper's attorney, Earl Gray, argued that even if the two players did get lap dances, it wasn't a crime because such dances happen regularly in Minneapolis.
(via Melissa Streit)
March 22, 2006

There seems to have been more going on at Abu Ghraib besides killing and torturing Iraqi prisoners:
The jury also found him guilty of indecent acts for ordering his dog, Marco, to lick peanut butter off the genitals of an American male soldier and the breasts of an American female soldier while a third soldier videotaped the episode.
-------
The only thing hotter than an Army dog handler ordering his animal to lick peaunut butter off his buddy's balls while another buddy videotaped it is these off-white Rogan jeans. Under Consideration: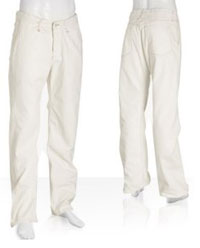 Rogan off white stretch denim 'Destruct' jeans with contrast stitching. Via bluefly. $150.
March 21, 2006
Here we go again: Some U.S. Officials Fear Iran Is Helping Al Qaeda
March 20, 2006
Extreme Shrub Schadenfreude:
AMERICA IN IRAQ: THREE YEARS LATER

President Bush cited Saddam Hussein's weapons of mass destruction and ties to international terrorism -- neither of which turned out to exist -- when he ordered a pre-emptive war that began March 20, 2003. He predicted payoffs for the wider Middle East: spreading democracy, deterred enemies, more secure oil flow, a less hostile environment for Israel.

None of that has happened, at least not yet.
One thing Shrub did change: he turned Iran and Iraq into allies.
-------
Meanwhile, the price tag for his colossal fuckup goes up: U.S. War Spending to Rise 44% to $9.8 Bln a Month, Report Says
-------
Now back to what's really important, like finding the perfect chelsea boot. It may have been located: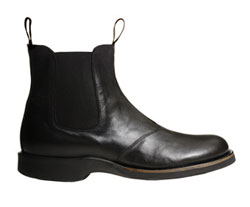 Barney's CO-OP branded black leather chelsea boot on rubber sole. Available at barneys.com. $275.
-------
I've been eagarly awaiting the release of Puma's golf line, and while the site still says "Coming Soon!" the shoes got put on store.puma.com last week. I'm generally disappointed with how damn modern most are (why not just throw some soft spikes on a pair of Ligas and call it good?), except for this fusion of new-school and old-school: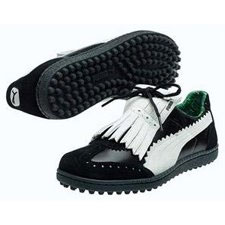 Puma Golf Cat. Via store.puma.com. $85.
March 16, 2006
Rolling Stone's Peter Travers loves V for Vendetta, the LA Weekly's Scott Foundas, not so much:
...as an action movie "V for Vendetta" is a dud -- far too long at nearly two and a half hours, with flat, grungy visuals, choppy editing and no sense of urgency. But as a political work, it's something else -- heavy-handed, reactionary and flat-out stupid.
Peter Travers is normally dead-on, but Scott Foundas is more often more deader-on,
correctly nailing
Crash
as one of the worst movies of 2005.
...it's one of those self-congratulatory liberal jerk-off movies that rolls around every once in a while to remind us of how white people suffer too, how nobody is without his prejudices, and how, when the going gets tough, even the white supremacist cop who gets his kicks from sexually harassing innocent black motorists is capable of rising to the occasion. How touching.
(Speaking of vendettas, I think I have one with Crash.)
-------
Mother Nature is a whore. 7 more last night.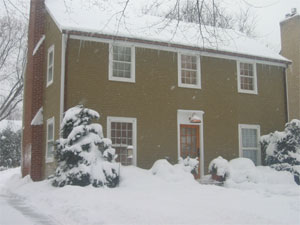 -------
Under Consideration: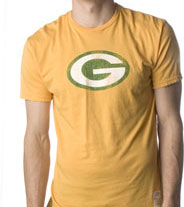 Retro Sport Packers in Gold, via Revolve Clothing. $48.
March 15, 2006
3 Years Later: Still Killin' Kids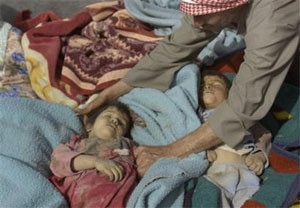 An unidentified relative mourns over the bodies of children, reportedly killed during a U.S. raid, as they arrive in a hospital in Tikrit, 130 kilometers (80 miles) north of Baghdad, Iraq, Wednesday, March 15, 2006. Eleven people, most of them women and children were killed when a house was bombed during a U.S. raid north of Baghdad early Wednesday, police and relatives said. The U.S. military acknowledged four deaths in the raid that they said netted an insurgent suspect in the rural Isahaqi area, about 80 kilometers (50 miles) north of the capital. (AP Photo/Bassim Daham)
March 14, 2006
Iraq: Not a civil war. Not at all.
It might be time to update the Bomb-A-Tron™ to the Bodies-Found-Handcuffed-Strangled-And-Shot-A-Tron™.
-------
Three days ago I was tossing the pigskin with my neighbor while our kids biked up and down the sidewalk. I was getting ready to tee it up. Today I am suffering lower back pain after shoveling a foot of the stuff. An octagonal-shaped sign near my house: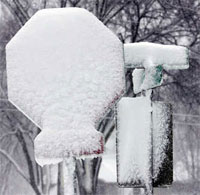 March 13, 2006
This reads like an early April Fool's joke. Nevertheless, great news for men everywhere:
Across the country, post-pubescent and peri-menopausal women alike are having their vaginas tightened, their mons pubis liposuctioned, their labial folds nipped and their clitoral hoods tucked.
-------
In The Bag: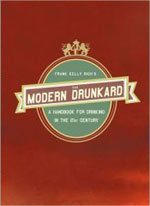 The Modern Drunkard: A Handbook for Drinking in the 21st Century, via amazon. $10.78.
March 10, 2006
Yesterday the New York Times wrote that men's fashion is going Brokeback: "Cowboy boots, snap-button shirts and big ol' belt buckles -- standards that have come and gone several times before -- are striding back into style."
This was only apparent, say, about 6-7 months ago.
-------
I'm a long-time fan of American Apparel, not just because they're about the last garment manufacturer left in America, but primarily because they put images like this on their home page. Three cheers for the striped Cotton Spandex Jersey Hot Short!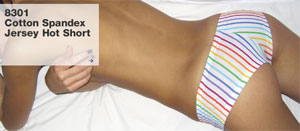 Besides Lamé Hot Shorts and Baby Rib Brazilian Bikini Panties and Sheer Jersey T-Back Thongs and more thongs they make the absolute best long-sleeve t-shirt I've found. Just like the product description says: "Flattering, stylish fit on almost any body type." A great layering piece or just wear it with jeans. Runs small. In The Bag (2):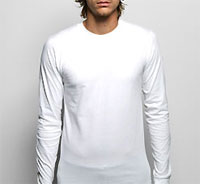 American Apparel Fine Jersey Long Sleeve T-Shirt, via americanapparelstore.com. White. $20.
-------
Netflix once again tweaks their site design, this time the movie detail page.
March 9, 2006
An outrage on par with Crash winning Best Picture, Chloe Dao wins season 2 of Project Runway.
The one thing worse than Chloe's evening gowns was the performance by judge Michael Kors: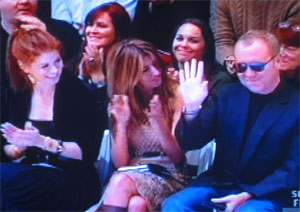 To quote a truism from Larry David, Season #1 of Curb Your Enthusiasm: "You know who wears sunglasses inside? Blind people and assholes."
Maybe he is blind, considering he designed this abomination. Not In The Bag: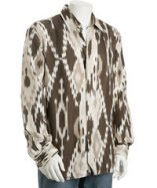 Michael Kors brown silk 'Ikat' sport shirt, via bluefly.com. $297.
March 8, 2006
At a forthcoming style blog called magnificentbastard.com (currently in pre-pre-production), part of the site's content should be some simple buying rules to live by. Consuming principles, if you will. And you wanna know what Rule #1 should be? IF YOU LIKE SOMETHING, BUY THE ABSOLUTE SHIT OUT OF IT AND DO NOT DILLY-DALLY. Because that fucker might be gone, maybe forever.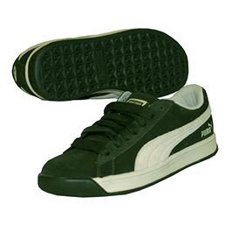 Case in point: A few weeks ago I discovered the most comfortable shoe in the history of shoes -- Puma's Frankenclyde -- and went back tonight to buy 2 more pair in the super-cool Iris Leaf/Winter White (and I am not even kidding about them being the most comfortable non-slipper you will ever have on your foot, ever). Fucking gone in size 12, maybe forever. Nothing at ebay. Nothing at zappos. No solid leads from google.
Again, the lesson: find something you like and buy as many as you deem necessary. Because that fucker might be gone, maybe forever.
(Come to think of it, this rule might apply to chicks, too. Find some gal willing to put up with the gambling, the sports obsession, the mild case of alcoholism, your idiot friends, the hair that grows from that mole on your arm ... marry her sooner rather than later.)
March 7, 2006
A new feature that may come and go and will probably be rarely updated after an initial flourish. Random Scans*: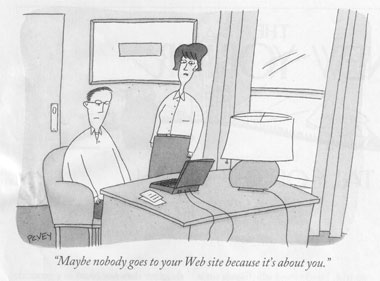 * Stuff I've just got lying around that's not online. In this case, a New Yorker cartoon.
-------
Thanks to a weblogging buddy and another weblogging buddy, I finally got plugged into the brilliance of Arrested Development (except for the narration by Ron Howard. Blech.). My wife and I had an AD-watching marathon over the weekend where we bought and watched Season 1 and Season 2.
Favorite character: Lucille Bluth, who I remember from Play Misty For Me.
Favorite moment so far: Lucille Bluth, when a waiter improperly handles her drink (surely a dry white):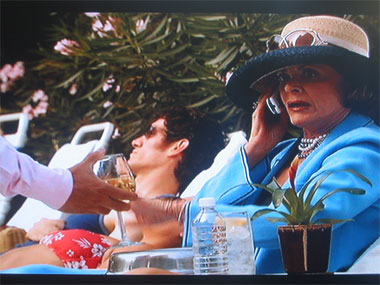 "Take it back! If I wanted something your thumb touched I'd eat the inside of your ear."
Waitstaff 'round the world, please take note.
-------
Wow. The fucking New York Times, and especially writer Michael Barbaro hasn't a clue. In an article today about Wal-Mart he says Glenn Reynolds' Instapundit is "one of the oldest blogs on the Web." For God's sake man. I killed my blog because it was post-peak before Reynolds even launched his, and I was a late adopter compared to kottke and peterme and the original weblog as far as I'm concerned, camworld. Sheesh.
March 6, 2006
Gah! Easily the biggest Oscar travesty since Forrest Gump beat Pulp Fiction 11 years ago. 100 minutes of crude lecturing, even cruder emotional manipulation, and by the end a source of unintentional laughter and the object of derision. I only saw two worse than Crash released last year: The Aristocrats and Red Eye.

Just doing some poking around and the Onion AV Club's Nathan Rabin totally gets it:
...though I don't doubt for a minute that writer-director Paul Haggis has nothing but the noblest of intentions his film is a typical middlebrow con that panders to the very people it pretends to confront. It's one of those risible films that aspires to uplift the human spirit, to make audiences feel like they're better people for having seen it. And people seem to be buying it.
-------

dack.com sausage rating: 10

Due to an unfortunate incident at a petting zoo almost four years ago, I stopped eating meat. So I'm always on the lookout for tasty non-meat products, and Boca's Italian Sausages taste about 99% as good as the original (the ones with animal carcass). Up next for a taste test: Boca's brats.



-------

Longtime readers will know I'm a big fan of Clark's Register, and they are absolutely blowing out fall/winter. Great deals if you can find your size.
March 2, 2006

Have 7 jeans jumped the shark? I saw a curiously large number of their product on the clearance racks this winter, and most ominously, one of my buddies, who's an excellent bellweather for post-peak fashion, had a pair on last weekend.
-------
Corina Zappia of the Village Voice has an amusing take on low-rise jeans, calling them "the inexterminable cockroach of the fashion world." She also gets a nice shot in on 7:
In our opinion, the ideal jeans have a rise between seven and eight inches (still stopping well below the navel) and come in a dark denim rinse.i.e., nothing "weathered," nothing "distressed," nothing that looks a bottle of Clorox attacked our thighs. (Whenever we've sport (sic) this fake-worn fade in the past -- the "7 Jeans Special," we like to call it -- we can't help but feel trapped in an Mariah Carey video, circa "Emotions.")
And to round out today's jeans post, In The Bag: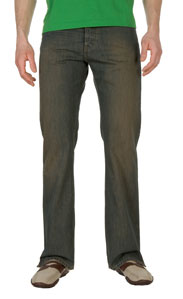 John Varvatos earth washed bootcut split cuff mid rise button fly jean. Via John Varvatos West Hollywood. Price: too much.
February 28, 2006
Besides the gigantic De Niro shades I'm also thinking a '70s throwback to gold-rimmed aviators might be in order. Yellow lenses, of course, like Dudley in 10. Notice Bo in the background. One of the hottest ever.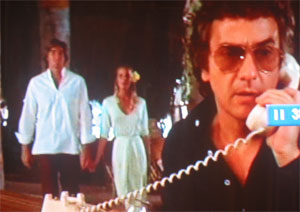 -------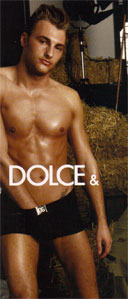 Yo D&G. We know gay men are 99% of your market. No need to advertise some guy feeling up his joint. We get it.





















February 27, 2006
Now that the sun is above the horizon for more that 6 hours a day up here at 45° 00' North, it's time to find the most enormous sunglasses possible. I'm enlisting the help of the sunglass savants at allyn scura to help me track down a pair of these. De Niro. Casino.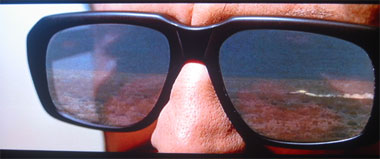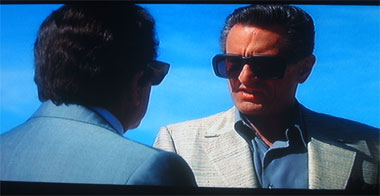 -------
One of the best things I've seen online this year is Jack Shafer's TV's Aryan Sisterhood, a riff on the blondness of US newsreaders: "They know only one hair color: blonder!"
Two of the most extreme examples of where the drapes don't match the carpet: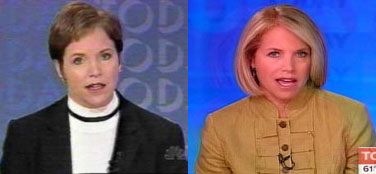 You're not fooling anyone, Katie Couric.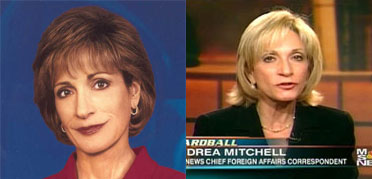 Andrea Mitchell. Puh-leeeese.
Shafer aims an especially sharp knife at Mitchell. She looks like "an Earl Scheib paint and body shop hosed her hair down with a gallon of Gold Leaf Metallic Clearcoat."
A blond fact: only one in 20 white adult Americans is a genuine blond, yet one in three adult American females has the look.
February 23, 2006
Please don't ask why I was watching Footloose for about the 50th time (OK, OK, it's to see Lori Singer in blue jeans; that never gets old), but this most recent time was the first time I realized David Hasselhoff is in this movie! The crazy dancing-in-the-sheets, dancing-in-the-diner scene: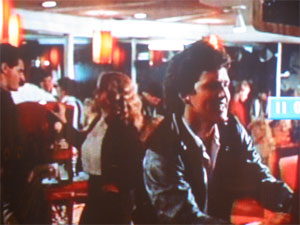 And get a load of the vintage white Nikes, full of dirt, like he just finished shoveling shit in Beaumont, and then decided to dance like his pants are on fire while playing a video game: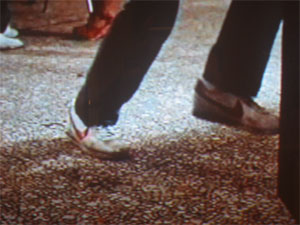 -------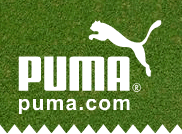 I've never been as excited about a product launch as I am about Puma Golf. Shoes and duds that are "street fashion fused with high performance designs."
I've been trying to do my own Jesper Parnevik meets Run DMC thing for a few years now, but it's not easy finding the shoes. A year after Adidas decides to make cool ones, they stop.
February 22, 2006
Before we get to the long-awaited laptop post, here's a heartwarming tale from Guantanamo.
"The head is immobilized by a strap so it can't be moved, their hands are cuffed to the chair and the legs are shackled," the notes quote Mr. Hassan as saying. "They ask, 'Are you going to eat or not?' and if not, they insert the tube. People have been urinating and defecating on themselves in these feedings and vomiting and bleeding. They ask to be allowed to go to the bathroom, but they will not let them go. They have sometimes put diapers on them."
-------
But I digress. Let's get to the business of buying shit. Some excellent laptop bag recommendations came in. Here are a few: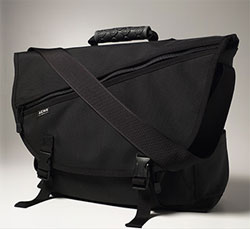 ACME - Clyde Messenger. $180. Well, I knew someone would submit ACME because they're possibly the most stylish bags out there. But there's currently a "situation" between ACME and Target, and since Target pays the bills around here, um, they're kinda off limits. My personal fave is the Slim Cargo ($250). It cannot get much simpler.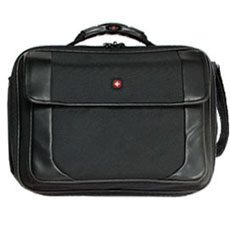 Wenger (Swiss Army) - The Comet. $80. My wife and I have a few pieces of "Swiss Army" luggage so this would fit in nicely, but maybe a little matchy-matchy. Quality of construction, though, would be top-notch.
Both bags submitted by: Thomas Anthony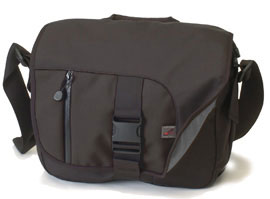 Tom Bihn - ID. $100. The author of this suggestion calls Tom Bihn bags "tough and very well designed" and that "the construction quality is first rate." They look a shade too far over on the "function" side of the form-function curve. There needs to be a little pain or it ain't fashion!
Submitted by: Steve Ulrich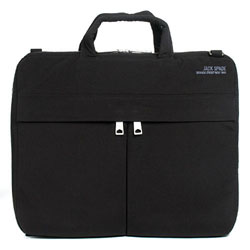 Jack Spade. $225. If there was a gun to my head and I had to pick now, this would be it. Black, minimal chrome, angular, simple. A fine brand. The only thing not to like here is the price.
Submitted by: Pete Nofelt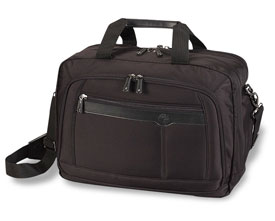 Timberland - Windfall. $130. Timberland is a little out of my brand universe -- the most "Great Outdoors" I get is watching Brokeback Mountain at the local megaplex -- but this bag looks like it would hold not just a flask of whiskey but maybe a couple of 750ml bottles. (Currently on sale at Irv's Luggage Warehouse for $80.)
Submitted by: Benjamin Lipsman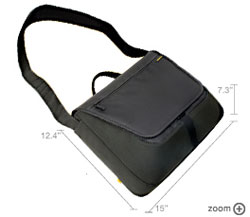 incase moya deluxe. Price unknown. incase is geared towards the mac crowd, but this simple bag would surely hold a ThinkPad. I'd like to see how that flap closes.
Submitted by: Amy Castor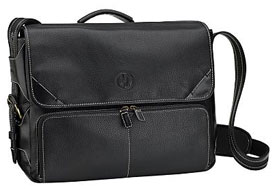 Cole Haan. Messenger - Walden collection. $425. How many cows or horses or whatever had to give their lives for Cole Haan to make this bag? Any company that makes $1200 crocodile shoes is cool by me, though this may be a touch boardroom for a guy who's one notch above the mailroom.
Submitted by: Eric Paradis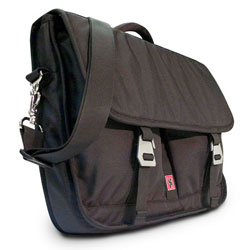 Chrome - Shuttle. $110. Described as "The Shit" by the submitter, Chrome looks like the bags you have over your shoulder while you're kicking some guy's ass. Super-cool logo. Street cred.
Submitted by: Soybomb
February 21, 2006
dack.com movie rating: 10

As good, or even better than the critics say (my cin-o review here).

Hard to believe a steaming pile of risible shit like Crash is even on the same ballot (for Best Picture).





-------
Not since the dack.com heyday when this site was A-list and hot chicks were emailing me their picture and telling me they wanted to have my baby has a post brought in as much email as yesterday's on laptop bags. Come back tomorrow for the Mother of All Laptop Bags post where I'll highlight the best entries, and there are some dandies. And I think I can kiss goodbye my Targus (and about $225).
February 20, 2006
I hate to admit this, but I've been carrying around my laptop in a black Targus bag for many years. I know it's a majorly bad fashion faux pas and I am truly ashamed, but the problem is I haven't been able to find anything that blows me away. For many years. So, if you can recommend anything, please drop me a line.
My needs are simple: a slot to hold my ThinkPad and its power supply, a folder for a few magazines and a book or two, pen and pencil holders, and a place for a flask full of Jim Beam. What I've observed so far: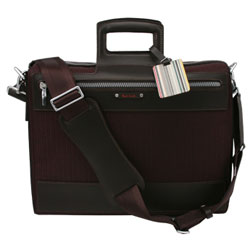 Paul Smith. £199. When I heard Paul Smith was doing a laptop bag I was like, "Holy shit! Paul Smith is doing a laptop bag!" He bats about .500 on his designs, and IMO this is a near miss. Too prominent a handle, too much metal, and too much maroon. Not to mention it's £199, which is about $350.
Timbuk2 Laptop Zip Briefcase. $100. When I asked around to some of my more style-savvy friends about a laptop bag, a couple of them said to check out Timbuk2. They're OK. This laptop zip briefcase is sufficiently black, but what is the deal with that ugly-ass swirly logo in bright yellow? Anyhow, the bag could pass for Son of Targus.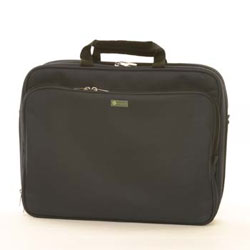 Casauri New Portfolio. $106. Casauri makes some clean bags in some funky colors (see the Paul Smith stripe knockoff Portfolio Valise), which is also part of the problem. Navy (pictured above) is as close to black as they get.
GYMS PACIFIC Laptop Briefcase. $62. It comes in black. The only problem is it's neoprene, and I'm not the world's biggest neoprene fan. GYMS PACIFIC does make some of the coolest sleeves, pictured above with their signature poppy on bud green.
I read on men.style.com that John Varvatos was doing a laptop bag, but couldn't find it online. Any other suggestions definitely appreciated.
February 16, 2006
I was in a fraternity. I even had a dark blue sweatshirt with the word "COLLEGE" on it. I attended toga parties and drank ungodly large amounts of beer and maybe urinated on some pledges and did a few things that would even make Bluto Blutarsky blush (that I'm sworn to secrecy about). But the welts on my ass were only about half this size: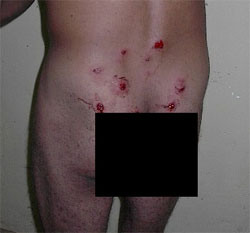 (Ass welts pic taken from a collection of new Abu Ghraib photos. "Fraternity prank" riff taken from Rush Limbaugh, who compared torture to being in a fraternity. As if that dumbass would know a thing about it. Gotta go to college first and then not drop out.)
February 15, 2006
It seems a little odd to write that a movie with pedophilia at its core is one of the best movies of 2005, but that's just how it is. Mysterious Skin has rocked my world so hard that I just finished watching it for the second straight night. I hesitate to recommend it because there are some pretty heavy-duty moments, but if you can handle a rape scene then by all means go rent it now. The critics are deadly accurate on this one, especially the Times' A.O. Scott:
...a gorgeous, heartbreaking and utterly convincing work of art. Its characters stay with you, and by concentrating on the lives of two very different young men, it seems effortlessly to illuminate a period and a milieu. To say that it is about child abuse is accurate, but incomplete. It is about the Midwest, about friendship, about the connections and disconnections between love and sex, and about a great deal more, all of it handled with clarity, simplicity and rare generosity of spirit.
February 14, 2006
Democracy is, like, totally cool if your guys win. If the wrong guys win then democracy needs to be nipped in the bud.
U.S. and Israelis Are Said to Talk of Hamas Ouster

The United States and Israel are discussing ways to destabilize the Palestinian government so that newly elected Hamas officials will fail and elections will be called again, according to Israeli officials and Western diplomats.
And we'll be able to judge Shrub's commitment to democracy by how strongly he rebukes Egyptian dictator Hosni Mubarak after this:
Egypt Pushes 2-Year Delay in Local Vote

President Hosni Mubarak has moved to postpone for two years local elections that were scheduled for April, turning away from a promise made during his recent presidential race to promote democratic practices, Egyptian analysts and political leaders said Monday.
Democracy on the march, fer sure.
February 13, 2006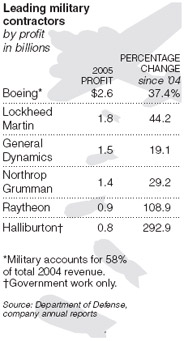 The Times has figured out that defense contractors make a killing when there's killing. It was clear by lunchtime on 9/11 that Shrub was going to blow a bunch of shit up and a boatload of money was going to be made, which is part of the reason I created the Perpetual War Portfolio. (The other reason was to highlight the stomach-churning relationship between defense contractors, administration officials, and all-too-willing congressional whores.)

The PWP is up almost 46% since inception, doubling the Dow and beating the S&P. NASDAQ is still king since late 2002, up 53%.





-------
As a rule, any time there are message boards dedicated to trying to understand whodunnit and what it all means, if anything, it's usually the sign of a good movie (e.g. Mulholland Drive and Memento). That's definitely the case with Caché (Hidden), a Michael Haneke-directed Hitchcockian mindfuck that grabbed me from the first frame and is still stuck in my melon the day after. Highly recommended.




-------
Can you imagine the fun Jon Stewart is going to have with this tonight, and for years to come?
February 9, 2006
One of yesterday's most emailed stories from the NYT.com was regarding the launch of two sites pushing into the services real estate agents offer. Now, I put most real estate agents on par with evangelical preachers and congressmen, but if zillow.com is the best their competition can do, they don't have to worry about giving up any of their confiscatory 6%. Just poking around my neighborhood's valuations, zillow's in the ballpark, but nowhere nearly as accurate as what an agent -- or homeowner for that matter -- would determine.
-------
If you're going to illegally invade another country and trash it, at least have the decency to put shit back together.
Iraq Utilities Are Falling Short of Prewar Performance

Virtually every measure of the performance of Iraq's oil, electricity, water and sewerage sectors has fallen below preinvasion values even though $16 billion of American taxpayer money has already been disbursed in the Iraq reconstruction program.
-------
Under Heavy Consideration for my 4 Year-Old Son: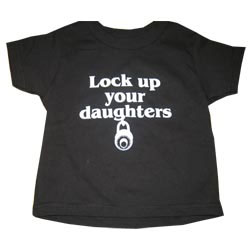 "Lock up your daughters" t-shirt. Via Chase's Closet. $24.
February 8, 2006
Go and rent The Inheritance. In spite of its lame title, this is a heckuva drama, summarized better by the LA Times' Kenneth Turan than I ever could:

...a powerhouse. Highly dramatic and intensely emotional, blessed with strong themes and an unstoppable narrative drive, it is adult, intelligent entertainment of a kind we rarely see these days.
If you liked the brilliant The Celebration at all, you'll definitely dig this.
-------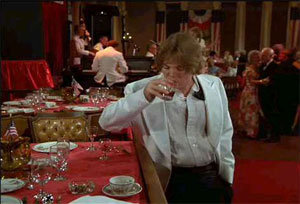 Are you gonna eat your fat?
Seems that's OK now.
Continuing with the movie references, it reminds me of that classic scene in
Sleeper
after Woody wakes up:
SCIENTIST A:
Has he asked for anything special?

SCIENTIST B:
Yes, this morning for breakfast...he requested something called "wheat germ, organic honey and tiger's milk."

SCIENTIST A:
Oh, yes. Those were the charmed substances that some years ago were felt to contain life-preserving properties.

SCIENTIST B:
You mean there was no deep fat? No steak or cream pies or...hot fudge?

SCIENTIST A:
Those were thought to be unhealthy, precisely the opposite of what we know now to be true.
February 7, 2006
It's been a long, long time since we've featured a Babe of Middle East Media, and this beauty from Abu Dhabi TV, Abu Dhabi, UAE is making a return visit. I like the longer hair.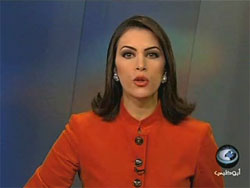 Previously featured on Babes of Middle East Media, a Babe with a bob.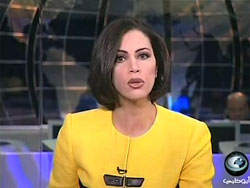 February 2, 2006

I've been an LA Weekly reader for a while now, and I've just got to vent on what a completely ham-fisted, half-assed, fully-fucked-up site redesign they've done. It's two weeks since launch and links *still* don't work. There are *still* javascript errors. As I type this a great big huge page that says "The site is temporarily down for maintenance. Please check back in a few minutes." And now it says "Lost connection to MySQL server during query." But most egregiously, they've completely shitcanned tens of thousands of pages of old content. Any url to any pre-redesign page redirects to the home page. All the old stuff is just "poof!" Gah! Get it together, fellas!
February 1, 2006
I see a lot more docs than the average bear, so it's with some confidence I can strongly recommend renting Enron: The Smartest Guys in the Room. So engaging it doesn't even feel like you're watching a documentary. Timely, too, with the trial just getting started.

Ken "Kenny Boy" Lay doesn't come off nearly as badly as Skilling. Handicapping the trial here for a second: I have a hunch Lay's Sgt. Schultz defense might actually work. If Skilling did even half the stuff that's in the movie, he's toast.



January 30, 2006
This site's been dead for a couple of weeks because its author has felt like he's been dead for a couple of weeks. Some days I could only get vertical long enough to change the DVD, and boy, did I change it a lot. From box office hits to arthouse Japanese dramas to a doc on Wal-mart I saw tons, and the best was The 40 Year-Old Virgin, and not just because Catherine Keener is 100% babe-ilicious (she's almost 46 years old!). As far as 2005's R-rated comedies go, I thought it was about a bazillion times better than Wedding Crashers.
-------
Headache, hacking cough, nausea, and not even explosive diarrhea can keep a conspicuous consumer down, and when shoes have a sole as killer as these Pumas, resistance is futile.
In the Bag: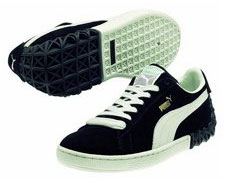 Puma Suede LS, via puma.com. $90.
The peaunut gallery definitely did not like my recommendation on the Gordon Rush casual shoes. My wife even emailed me to say that only pimps wear Gordon Rush, to which I said, "Bullshit." Gordon Rush is rock solid, as clearly demonstrated by the boot pictured below. The two gunmetal rivets are just enough to indicate (1) you live west of the Mississippi, and (2) no one had better fuck with you.
Under Consideration: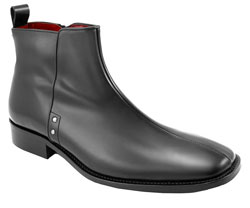 Gordon Rush 'Cromwell' Boot, via Nordstrom.com. $245.
Even more batshit zany than a divorcee socialist agnostic getting elected president of a country in the Western Hemisphere.
January 17, 2006
Regular readers know how much we love coolestshop.com. Lots of their stuff is a little too surfer/skater dude for a 30-something to wear without looking ridiculous, but there are always some gems, like this Adidas golf hat: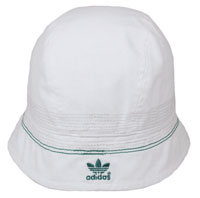 ADIDAS 'Livewire' via coolestshop.com. $25 (on sale).
January 11, 2006
Under Consideration: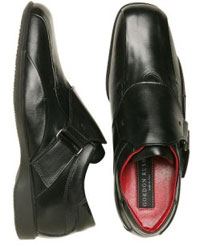 Gordon Rush black leather 'Ventura' casual shoes, via bluefly. $141.
January 10, 2006

The January issue of GQ (the one with Jack Black on the cover) picks "The Perfect 10," what to wear this spring. In what may be a regular seasonal column, dack.com breaks 'em down, picks the winners and losers, what might make you look like a thousand dollars, and what's going to be on the deep discount rack in two months.
1. Geometric-Patterened Dress Shirts & Matching Ties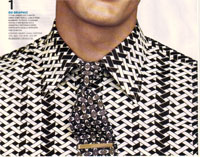 With a here-today-gone-tommorow fad like bold geometric dress shirts and bold geometric ties to match, I reckon there's not an easier way to tag yourself as a fashion victim than putting this outfit on. And fashion victimhood is really uncool. Look for these shirts at Chess King 20 years ago, or at a Neiman's Last Call sale in May.
2. The Elegant Sport Coat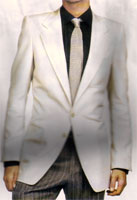 A Yves Saint Laurent sport coat (pictured) rocks, of course, but given limited budgets and limited wearing opportunities for most dudes, anything along these lines has gotta go with jeans as well as a pair of trousers.











3. Preppy Revival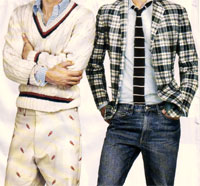 A strong dack.com endorsement to the Preppy Revival. Who doesn't like lobsters and hula dancers on their pants? Instead of doing it from head-to-Sperrys, best to mix in a touch of edge like the Thom Browne shirt (pictured at on left), some Campers, or raw selvage jeans with that blazer (on the right).




4. Chains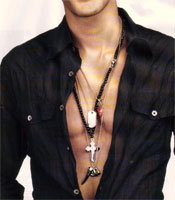 OK. Show of hands. How many guys do you know, or have even seen, who can pull this open-shirt chains thing off without looking like an asshole? I thought so. Maybe if your dad wore chains and your granddad wore chains this could work. Otherwise, you run an extremely high risk of getting branded TTH (Trying Too Hard).






5. Wrinkles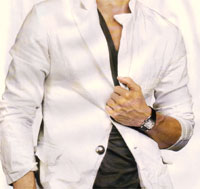 Another hearty dack.com endorsement, though GQ is a little late. Last fall I scored a paperdenim&cloth blazer that came shipped twisted and bound with rope.










6. Goin' Sockless

Though it can be a little chilly on the ankles up here at the 45th parallel and points north, goin' sockless with a suit is an easy, subtle way to add a point of view. As GQ points out, it helps to have "peds" (low cut ankle socks) for comfort and to reduce stench.
7. Shiny Suits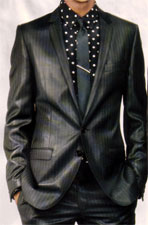 Another item that'll be at overstock.com in 4 months, and the easy street to Fashion Victimhood. Most men have a need for better traditional suits, not shiny ones.













8. Short-Sleeve Button Fronts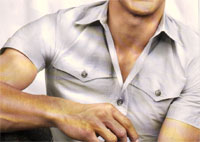 Yes! And if you have pipes like the dude pictured, go for the shortest sleeve possible. Untucked (natch), this can work great if you're still carrying a few extra pounds from the Christmas ham. For a traditional, or what I like to call the "urban grandpa" look, check 'em at penguinclothing.com.

9. Golf Jackets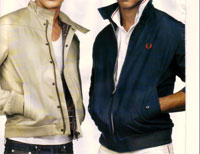 Probably too close to the "Preppy Revival" category to warrant its own number in the top 10. Best if you actually play golf, and in that case you already own one.







10. Skinny Jeans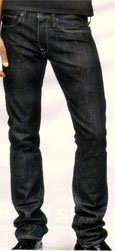 Skinny is clearly in for '06. Skinny lapels, skinny belts, skinny shoes, skinny shirts. Skinny jeans may work on occasion if you're a drug-addled rock-and-roller, but if you're a regular guy it's just going to make your ass look fat.















January 6, 2006
If this keeps up Fallujah will lose its "safest city in Iraq" designation fer sure.
-------
An HP employee discovered the Bullshit Generator for the first time and wrote this inspired piece:
I wanted to make sure that we were on the same page with respect to your web-based tool, so I am opening a dialogue to download my status on this visionary portal. I have taken a proactive stance at this pinch point and targeted my channels so that I can all drill down in my communications and understand the go forward needs of my market audience and ensure that I target messaging appropriately. As such, I have agreed to fully own an action item through this interface and deliver to you my initiative to enables messaging that will be goal oriented and results driven. As always I am quality driven and did not want to drop the ball, so this heads up is provided to facilitate a mindshare with you of the intuitive empowerment your win/win scenario has provided to me so that you may eyeball the morphing of simple communications into a holistic messaging to my communities. I hope there are no show stoppers, as I expect to challenge my core competencies in a think outside the box networking way which is expected to leverage my strategic fit into this paradigm with a delight factor of uncompromising financial model benefit for all, which will enable user-adjustable assumptions to flexibly test the impact of these key drivers for my target audience.
January 5, 2006

Yeah, I know it's on the Women's Entertainment Network, but my new favorite show is Daddy's Spoiled Little Girl. Where else can you see a chubby 5'7" 19-year-old Bel-Air chick think she's got what it takes to be a runway model?
The only bummer are the ads:
Meow Mix (For the cats. And you know there are a bunch of goddamn cats.)
Bee Gees Love Songs (How deep is your love? I really need to know.)
Lean Cuisine (because you're too fat)
Payless Shoes (for working out, because you're too fat)
GNC Diet Products (because you're too fat)
Quaker Instant Oatmeal Weight Control (because you're too fat)
Leptopril Diet Pills (because you're too fat)
Slimquick Female Fat Burner (because you're too fat)
It's almost as bad as watching golf, with all the ads for erectile dysfunction.
January 3, 2006
It's a little early, but so far 2006 is 100% kick-ass!