March 31, 2005
What the heck in wrong with LA Weekly's Ella Taylor? It would seem she's not a fanboy:
Sin City, an exquisitely made, unbearably faddish movie that will strike joy into the hearts of all who revere amputation and apocalypse, opens with a swoony love scene culminating in a murder for the heck of it. From there it moves smartly to the promise of child molestation and, with the culprit having had both his face and his balls shot off by Bruce Willis, steams merrily along toward cannibalism, electrocution and the mounting of severed female heads on walls.
I ain't so big on child molestation, and cannibalism is just OK, but decapitation can be fun.
March 29, 2005
Vegas, baby.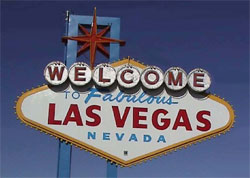 It's a horribly cheesy line. But even as someone who doesn't gamble, doesn't bet on sports, doesn't do lap dances, and only occasionally does lines of coke off black hookers' asses, that's all I can say after my first trip to Vegas. Either that or "Viva Las Vegas!"
Here are some almost totally random experiences and thoughts...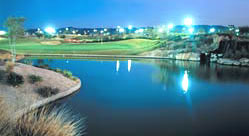 * Several of the pros I talked to said if I wanted to just hit balls, take a taxi down to the Callaway Golf Center located at the far south end of The Strip. Bad call. Small grass tee area, small putting green, small chipping area, and an idiotic check-in system where you hand your bag to the bagboy, get a ticket, and pick them up 10 feet later. The only benefit of the trip was to see the famous sign, with about 2 dozen tourists lined up for photos.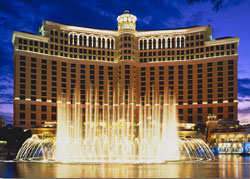 * We all got rooms at the Bellagio. My buddy Craig went big-time all weekend and rented a Penthouse Suite @ $600/night. This wasn't the famed "Rain Man" suite at Caesars Palace, but it was at least in the Rain Man family. Now, I know it seems like it's fucking insane to spend $600/night on a hotel room, but this was actually a value. Limo service to and from the airport, VIP check-in, preferential access to all the Bellagio restaurants and clubs ... and the suite itself totally rocked, with three bathrooms, steam bath, whirlpool tub, and a great view of The Strip.
* The first night we tried a Thai restaurant I read about called Lotus of Siam, just a few minutes from The Strip. Gourmet food critic Jonathan Gold has called it "the best Thai restaurant in North America," which I found hard to believe after walking into an absolute hole in the wall located in a dumpy strip mall. But I believed him after tasting the food, which has also got to be one of the best values in the entire city (entrees average about $8).
* The Hard Rock Hotel was hyped as the place to see and be seen, but it disappointed. There was, however, an absolutely stunning Eastern European hooker who was looking for a gig. She made us all wonder why she didn't just find some sugar daddy to take care of her instead of chatting it up with some schlubs from Minneapolis.
* We got a round of golf in at the Las Vegas Country Club. It's got a great old-school feel with some very pretty holes, and it's just a short ride from Bellagio. It's the former site of the Las Vegas Invitational (PGA Tour), and the current site of the LPGA Takefuji Classic, which starts April 14. Check local listings. Last year Steve Wynn made a hostile bid for the course, which I think was rejected by the membership.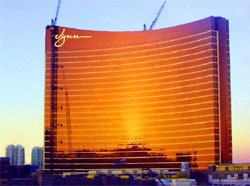 Speaking of Steve Wynn, his new, $2.7 billion hotel/casino is set to open on April 28th. It does look pretty cool when it's hit properly with the setting sun as shown above, but most of the time it looks like a fancy office building. Not to worry, the locals told us; apparently it's going to blow away Bellagio. The rooms do look pretty damn cool.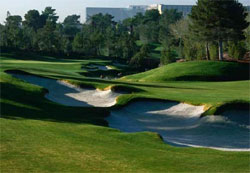 * Wynn bulldozed the old Desert Inn golf course and collaborated again with Tom Fazio, who did the famed Shadow Creek, to build a new one adjacent to the hotel. Locals told us the 1st tee is actually inside the hotel.
* Dinner at Nobu's sushi bar was great.

* At the high end of the Vegas "gentlemen's club" stripper pole is the Spearmint Rhino. Gobs of surgically enhanced women swarm around, each looking for a $20 lap dance. You practically need a can of mace to keep them away. Luckily for me, I had the sexuality-ambiguous Talented Mr. Ripley look going that night, and was bothered much less than my clearly heterosexual buddies.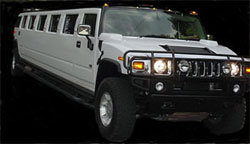 * After you leave a place like Spearmint Rhino, it's poor form to ride in anything except a Hummer Limo, blaring hip hop, with some women on a bachelorette party. When one of those Outkast songs came on, the women kinda freaked out and started grinding on each other, which was kinda cool.
* Definitely overrated is the nightclub at the Bellagio, Light. Way too much sausage, lots of jackasses in striped shirts talking on cellphones, and too much damn hip hop. God I hate hip hop. Also, side note to the DJ at Light: your medleys suck. Even hip hop fans want to hear more than 25 seconds of Stardust's Music Sounds Better With You, one of the greatest club tunes of all time.
* We were very late for our reserved table at Light, and when we finally showed up it was occupied by the second greatest basketball player of all time, Michael Jordan. So we waited for a bit.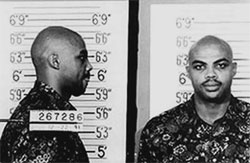 * While we waited, I literally bumped into Charles Barkley, who is fat. His mugshot says he's 6'8, he was listed in the pros at 6'6", but he's more like 6'4". I'm 6"2" and could look him in the eye. For being only 6"4", the skills he once had inside the paint are even more impressive.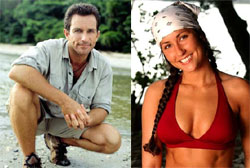 * One of the best things about Bellagio is the pool area: 2 large pools, multiple spas, poolside cabanas with robes and TVs, and lots of beautiful people. We were soaking in a tub when one of my reality-TV-watching buddies said, "Hey, that's Jeff Probst." I was like, "Who the hell is Jeff Probst?," and he was like, "The host of Survivor." Sure enough, it was the guy. Short, like most other celebs, but ripped up, and looking good for mid-40s. He was there with his girlfriend, former Survivor contestant Julie Berry, who's nearly half his age. Good work man!
* Well, there's more, but it's all the time I've got. One last thing: weekend fun and painful hangovers brought to us by: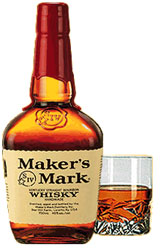 March 28, 2005
Stay tuned for complete coverage of a boys Vegas trip. Still in recovery mode.
March 23, 2005
It's a sad day in France.
Lawmakers Vote to End the 35-Hour Workweek

French lawmakers voted to essentially dismantle the nation's 35-hour workweek, opening the door for companies to increase employees' working time in exchange for better pay.
March 22, 2005
Under Consideration: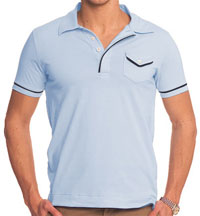 a+dam short sleeve tennis shirt w/ pocket, covered placket and piping detail. Pima cotton. Via adampluseve.com. $85.
March 21, 2005
The following post is brought to you by:


I finally caught up on the initial episode of Project Greenlight, and all signs point to another commercial and critical disaster, though I doubt anything could suck as hard as the dreadfully bad Stolen Summer. There's just something a little odd about listening to Ben Affleck, who stars in movies critics hate, talk about the merits of a script or a director.
Side note: dack.com will be releasing a B-movie horror/comedy short in the next 2-3 months.
March 17, 2005

As recently as 2003 I shaved with an antique safety razor with a single Wilkinson Sword 2-sided blade. One day, after slicing the shit out of my thumb so badly I needed stitches, I experimented with some non-maiming modern technology, and discovered Gillette's Mach 3 Turbo. In spite of the cheeseball name it gave a great shave, and the antique was retired.

Then, after watching a Late Show rerun where Dave heaped praise on the Schick Quattro, I thought I'd give it a try. After all, four blades are better than three, right?
Not. Even. Close. Not that the Quattro gives a bad shave. It doesn't. (Though the bulk of the head can make it hard to do the upper lip.) It's just that the Mach 3 gives a fucking great shave. I reckon it's the best shave you can give by yourself.
Note: Reader Thomas Anthony sends in an Onion classic: Fuck Everything, We're Doing Five Blades, a note from Gillette's CEO.
We were the fucking vanguard of shaving in this country. The Gillette Mach3 was the razor to own. Then the other guy came out with a three-blade razor. Were we scared? Hell, no. Because we hit back with a little thing called the Mach3Turbo. That's three blades and an aloe strip. For moisture. But you know what happened next? Shut up, I'm telling you what happened - the bastards went to four blades. Now we're standing around with our cocks in our hands, selling three blades and a strip. Moisture or no, suddenly we're the chumps. Well, fuck it. We're going to five blades.
-------
dack.com loves Theory. It's precicely the right amount of fashion without looking like a jackass, or a fashion victim. Or both.
In the Bag:
Theory khaki twill 'Curt' pants. Via Bluefly. $109.
March 15, 2005
After many years of research, the dack.com investigative team has concluded that there are GQ guys and there are Esquire guys. I'm the former, but in the March issue of the latter, #26 on the list of New Laws of Fashion is a bit of wisdom, even truth:
26. When it comes to watches, you are one of two types: a quartz guy or a mechanical guy. A quartz watch is eternally accurate, like an atomic clock. A mechanical watch is a tiny metal beauty with hundreds of moving parts, built by Swiss elves. Buy a quartz if you simply must know what time it is. Buy a mechanical if you like machines.
-------
Regular readers of this site know the dack.com staff are all big Chavez fans. And even moreso after today's profile in the Post. But his comments about Condi are so out of bounds. Of course she can read.
Chavez has saved some of his most biting sarcasm for Rice, whom he refers to as "Condolencia," which means "condolence." In speeches, he has called her "pathetic" and illiterate and made oblique sexual references to her. "I cannot marry Condolencia, because I am much too busy," he said in a recent speech. "I have been told that she dreams about me," he said on another occasion.
March 14, 2005
Predictable articles from the recent shooting gallery carnage:
Atlanta:
Neighbors Baffled by Slayings
Childhood friends of Brian Nichols are shocked by his actions, and wonder what went wrong.
Milwaukee:
Quiet man gave no hint of violence
Neighbors say inventive loner raised trout, grew vegetables, made church a priority in his life.
-------
I don't know anyone who's served in Iraq. I only know one person who knows someone who's served in Iraq. But I do know of someone who served in Iraq. Capt. John F. "Hans" Kurth and I are from the same small forgotten cowtown in rural Wisconsin: Columbus. He was a favorite son. He played on a state championship football team. He attended West Point. His great grandpa started the Kurth Brewery and built the Kurth Mansion. His dad, who's about the nicest guy you'll ever meet, still serves Pabst taps out of the brewery's original office.
Hans Kurth was killed by a roadside bomb, riding in an unarmored humvee, a year ago yesterday.
His death was a big deal. The funeral packed the gym at our old high school. The city shut down. My dad attended the funeral and sent me press clippings from several of the state's newspapers. From the Wisconsin State Journal there was a picture that didn't just make me weep, but grieve. And it's forever burned into my brain.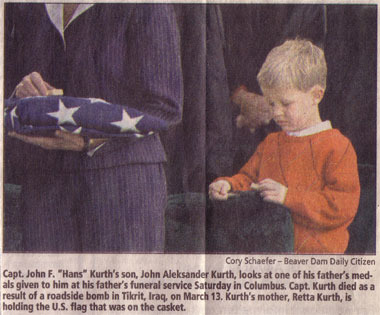 March 10, 2005
I really liked Napoleon Dynamite. Roger Ebert, in his usual state of utter suckitude, gave it just 1.5 stars (of 4), suggesting it was a Sundance hit because Sundance audiences are too cool not to like something as offbeat as ND. Nevertheless, it's already achieved cult status, showing at the coveted midnight cult timeslot at the Uptown Theater in, um, Uptown.






-------

The gay dack! Only with more products, more product types, more product descriptions, and more overall gayness.
Note to Lance: G Star jeans may be cool n' all, but low-rise is so LY. Even a prairie hetero knows that.
-------
In the Bag: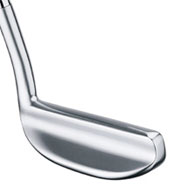 Wilson 8802 putter. Via 2nd Swing. $54.
March 8, 2005
Golfing in Kabul. I think you're allowed a free drop from the rusted Russian tank. It's a local rule.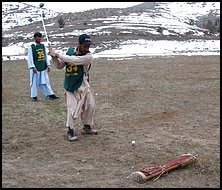 March 7, 2005
I'm in the market for a new putter. It's been a long, long time since I shopped putters, and boy, things have changed. Some of the stuff people are peddlin' these days look like shop experiments gone horribly wrong. Even if these "flatsticks" made a few more putts I'm not sure I could tolerate this level of ugliness in my bag:

Ping Doc 17. $200.

MacGregor V-Foil GT MK5. $230.

Nike Blue Chip. $130.

Titleist Futura. $270.
What the hell?
Even a classic company like Hogan is putting out a putter that would make poor Ben spin: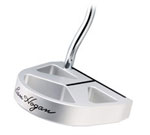 Hogan Hawk by Robert Bettinardi. Price unknown.
Speaking of Bob Bettinardi, who used to make his own putters before making them for Hogan, here's a beautiful prototype BB43 model that's available for just $775. This baby sets up absolutely perfectly, and if one considers that putting is nearly 1/2 the game, one can almost rationalize spending $800 on a putter.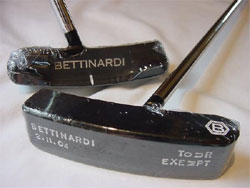 Bettinardi BB43 prototype. Soft carbon steel. $775.
Another exciting contender for my business is Titleist's launch of the "American Classics" line, based on the old-school brass Bulls Eye that was my first putter as a young lad. Supposedly available later this month:

Titleist American Classic Bullesye w/flange. Price unkown.
Finally, as much as I hate to say it, mega-mainstream Odyssey has a putter that doesn't totally suck, and the price is right: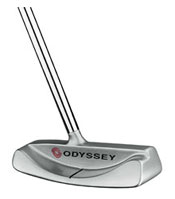 Odyssey White Hot #2 Center-Shafted. $100.
March 2, 2005
Another step towards abolition: we're not killing kids. Which is good.
-------
Now that the U.S. is cool with democracy, it'll be interesting to see how relations go with Uruguay. Yesterday it swore in lefty president Tabare Vazquez, who not only wants to run a program of economic and social justice, but whose second act in office was to restore diplomatic relations with -- gasp -- commie Cuba.
-------
Part of the neocon vision of invading Iraq was that the new government would have friendly relations with Israel. When Iraqis were given a full two-day weekend that includes Saturday there were protests (actual protests against another day off!) and complaints that "we don't want the Jewish holiday."
March 1, 2005
Attention Packer Nation! Here's your coach taking a goddamn nap at the combine. (Somehow I just can't see Bill Belichick doing this.)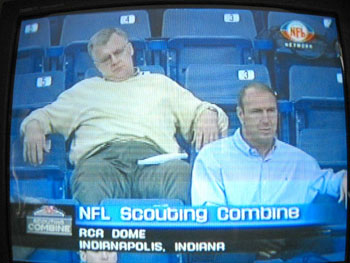 -------

For about the past 2 months I've been hitting the "Reload" button on the Clark's Register website, looking for their spring collection. Well, it's here ... and ... it totally blows, like, worse than a Robert Graham shirt. Last fall I wanted one of everything, but this catalog's got only two items under consideration: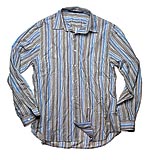 ISDA & CO Krinkle Shirt. $125.
and: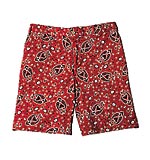 Bill's Bandana Short. $98.
(Items worn separately.)
-------
If you're a little fuzzy on your Lebanese history, Juan Cole has an excellent background.
February 24, 2005
Dack.com heartily endorses:

Ripshark is a CD-to-MP3 service here in Minneapolis, and it rocks. I got a really good deal converting my CD collection because I happen to know the owner, but I can vouch for the value and quality of the service. Between changing diapers, getting the other son to poop on the potty, drinking beer, playing pool, editing a newslog, buying an inordinate amount of clothing and accessories online, and following the Gannon-Guckert story, who the heck has time to rip even one CD? Let Ripshark do it. Free pickup and delivery in the Twin Cities.
-------
Man of the House is not being screened for critics, and that's usually a really bad sign. Look for the critics to savage it over the weekend, except for Maxim, who will likely swoon over the University of Texas cheerleaders.








-------
Wow. Canadian tourists in Thailand take pictures of the tsunami that killed them.
February 23, 2005
Get this: The Pope calls democracy "godless." In that case, three cheers for democracy!
-------
My New Obsession: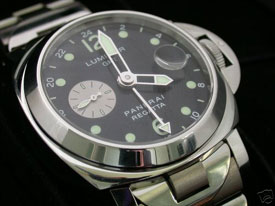 Panerai 2002 Regatta GMT. Only 300 made. I challenge anyone out there in readerland to show me a more beautiful watch. 44 millimeters of steel and sapphire that spells M-A-N. There is one small problem with this item: it's $7K.
February 22, 2005
NO, I DON'T WANT THE FUCKING SERVICE PLAN!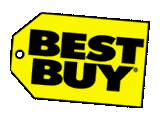 In the past I've barely tolerated Best Buy's Service Plan Pitch, but no more. I'm done. The place is banned. Not spending another dime there. Not. Ever.
INTERIOR - BEST BUY RICHFIELD


CASHIER


Are you interested in the ser-



DACK


No.



CASHIER


-vice plan?



DACK


No.



CASHIER


It's $12 for two years.



DACK


Look, I know you're just doing your job, but I don't want the service plan.



CASHIER


Why aren't you interested?



DACK


Because I'm not.


Then she asked me for my phone number. After a Tourette's-like outburst I calmed down enough to ask why they were asking for phone numbers. It's for "demographic purposes" I was told. (Which I happen to know for a fact is total and complete bullshit. They're comin' after YOU.)
Anyhow, Best Buy #1 didn't have all the cordless phones I needed, so I headed to Best Buy #2. I found my items and headed to the checkout. The cashier's name was Joe.
INTERIOR - BEST BUY EDINA


DACK


Joe, before we get started I just want to let you know that I'm not interested in the service plan.



JOE


It's only $9 for two years.



DACK


No thanks, Joe.



JOE


Cordless phones are the most returned item.

DACK


That's interesting.


It was at this point that I was practically assaulted by a management flunkie, telling me what a good deal it was to spend $9 on a service plan. I nodded, smiled, then grabbed my purchase and left.
Then it occurred to me why Joe was so persistent about the service plan, even though I preempted him: In some stores Best Buy has management flunkies positioned behind the cashiers, making sure poor high-school kids like Joe make the hard pitch for the service plan. And when the customer says no, they move in like a life insurance salesman, trying one last time to close.
Hey Best Buy: It's not enough for me to buy your products?! To spend 20% more than I could find it for online? Is it asking too much to leave your goddamn customers alone?
-------
In the Bag: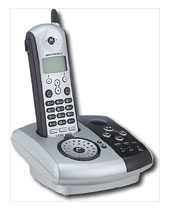 Motorola MD761 5.8GHz phone with answering machine + 2 expansion handsets. ~ $225. Via Best Buy.
(Our household has gone through about a half-dozen different phone systems, and they either have had interference with WiFi or otherwise sucked. The Motorola MD761 is the first one that's not been returned. While far from perfect, it ain't bad.)
-------
This just in: atheists have a poorer work ethic than believers. Duh.
February 18, 2005
Some people hate the Bomb-A-Tron™, some people love the Bomb-A-Tron™:
Hate:

From: Paul Pouthier <ppouthier@nyc.rr.com>
To: editor@rationalenquirer.org
Subject: bomb-a-tron

Why was time wasted making this program
of despair? What use is it?  Aren't there 
more important things to do with one's
time?

Love:

From: [name withheld] <xxxxxxxxx@ap.org>
To: editor@rationalenquirer.org
Subject: Bomb-a-Tron

I am a correspondent for the Associated
Press in Baghdad. I just wanted you to 
know that I love the Bomb-a-Tron.

-------
Speaking of the AP, how about this headline: Box: Fatal U.S. Military Deaths Jump
February 17, 2005
The Iraq War providing yet another heavy dose of irony:
War Helps Recruit Terrorists, Hill Told

On a day when the top half-dozen U.S. national security and intelligence officials went to Capitol Hill to talk about the continued determination of terrorists to strike the United States, their statements underscored the unintended consequences of the war in Iraq.
-------
Under Consideration: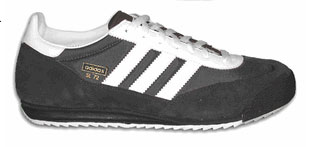 Adidas SL 72 Running Shoes. $54.95. Via Classic Sport Shoes.
-------
Frank Rich compares White House press briefings with Jon Stewart's The Daily Show.
February 16, 2005

One of my buddies is 36 and experimenting with match.com. His ideal age range for a match is 29-33.

I just think it's really important ... no, like extremely important to point out that Kim Basinger in 51 years old.



-------
In just about every other instance I'd side with the reporters, but in this case a crime was committed, and I really have no problem forcing Matt Cooper and that whore Judy Miller to testify in the Plame case. (Miller's actually getting off easy. She could also be charged as an accomplice to the war crime that is OIF.)
-------
You may recall how Seymour Hersh was labeled a loon by the Pentagon when he wrote about U.S. plans on Iran. Well, at least one part of his story -- that the U.S. has been conducting secret reconnaissance missions inside Iran at least since last summer -- has checked out, first in the WaPo last Sunday and today from the BBC.
February 15, 2005
It's a rare banner day for DVD releases. A record number of cin-o-matic "greenies" including The Yes Men, as well as:
My Architect
Donnie Darko: Director's Cut
Last Life in the Universe
The Motorcycle Diaries
Purple Butterfly...

... and a near-greenie, the ultra-violent Korean Saving Private Ryan, Tae Guk Gi: The Brotherhood of War, that has dialogue like, "Where's my arm?" and "Where's my leg?"
If you like movies the critics hated, then, in order of descending suckiness, there's the gay noir Testosterone, the Hilary Duff vehicle Raise Your Voice, and finally, the truly loathed Taxi with Queen Latifah and Jimmy Fallon. Roger Ebert called it "...a film that is wall-to-wall idiocy..."
-------
Distinguished moral philosopher and Princeton professor emeritus Harry G. Frankfurt has written a book on the art of bullshit called On Bullshit. He was profiled yesterday in the Times.
Perhaps this site's greatest claim to fame is that when you type in the word "bullshit" into the box at Google, it's the #1 result.
February 14, 2005
Valentine's Day done right, by The Onion. Love coupons: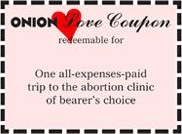 -------
In the Bag: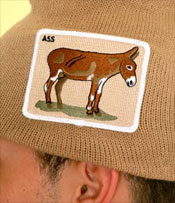 Ass Hat, via Urban Outfitters. Was $18, now $6.99. Got two!
-------
Ha! This would be funny if it weren't such a total clusterfuck. Nevermind. Something this ironic is always funny. Especially when you see the picture (below) of the Purple Finger Brigade at the '05 State of the Union.
Iraq Winners Allied With Iran Are the Opposite of U.S. Vision

When the Bush administration decided to invade Iraq two years ago, it envisioned a quick handover to handpicked allies in a secular government that would be the antithesis of Iran's theocracy -- potentially even a foil to Tehran's regional ambitions.

But, in one of the greatest ironies of the U.S. intervention, Iraqis instead went to the polls and elected a government with a strong religious base -- and very close ties to the Islamic republic next door. It is the last thing the administration expected from its costly Iraq policy -- $300 billion and counting, U.S. and regional analysts say.
-------
Besides the Robin Wright piece quoted above, we have some especially good Iraqi election coverage over at The Rational Enquirer.
February 10, 2005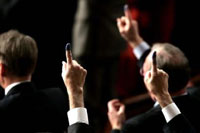 I've been totally checked out for a while. Haven't read much, haven't seen much, haven't spent much time buying stuff online (which is really a pity since there are so many killer sales goin' on).
I missed the State of the Union last week, which extended my streak of missing the State of the Union to about 22 years in a row. I did see something about a group of Republicans dipping their index fingers in purple ink, to show their solidarity with Iraqi voters.
I'm glad to see these GOP folk are down with elections, and I'm sure they will maintain their principled stand in the aftermath of the election, if Iraq turns into an Islamic republic, ruled by Sharia law, where women may not shake hands with men, and music is permitted but only if it is not for enjoyment. I trust they will continue to accept the Will of the Iraqi People if they ask U.S. troops to leave, don't allow U.S. multinationals to exploit their natural resources, and don't align themselves with the U.S. in the IP conflict.
And I'm confident that, the next time Condoleezza Rice rails against Venezuela's Hugo Chavez, these purple-fingered freedom-fighters with tell Condi to STFU and remind her that Chavez has won three elections by margins far wider than her boss ever has.
I have no doubts.
January 31, 2005
So I'm in the market for a "This aggression will not stand, man." bumper sticker and came across the Lebowski Fest "Achiever" t-shirt ("Achiever" is the preferred nomenclature for a Big Lebowski fan.) And proud we are of her, er, them: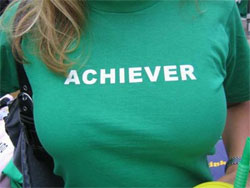 -------
A Larry David riff on Christianity, Curb Your Enthusiasm, Episode #19, Season #2:
Why do Christians take everything so personally with Christ? You know? It's like not only do you worship him, you want everybody to. It's like I like lobster. Do I go around pushing lobster on people? Do I say you must like lobster? "Eat lobster! It's good! It's good!" It's not only where you live, you go to Africa, you travel all over the world. "Eat lobster! Have some more lobster! It's good! We want you to have lobster!"
Anyone know where the hell season #5 is at? The reruns are killin' me.
January 28, 2005
It's been a mighty long time since I've added to the collection of Babes of Middle East Media, but after seeing IRIB 2 News from Tehran, Iran, it could be time for the companion feature: Bowsers of Middle East Media: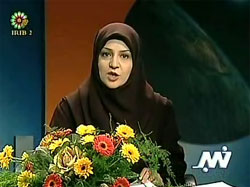 If bombing the bejesus out of Iran will improve the look of the newsreaders, and remove flowers from the newsdesk, then let's queue up the Tomahawks.
January 27, 2005
Finally, a major U.S. politician with some sense, and some balls:
Kennedy Calls for Troop Withdrawal in Iraq

The American military's continued presence in Iraq is fanning the flames of conflict, and signals the need for a new detailed timeline to bring the troops home, Sen. Edward M. Kennedy said Thursday.
-------
So Doug Feith is quitting at the DoD. Poor guy has the unfortunate distinction of being the only result for a Google search for "fucking stupidest guy on the face of the earth". That must kinda suck.
January 25, 2005
"I Voted" stickers, Iraq 2005 version: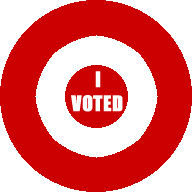 -------
So we sodomized a handicapped man, killed his brother and tossed the body on top of his sister? God bless America. For real.
-------
You know, all this talk about car bombs, "I Voted" stickers that look like bullseyes, and SODOMIZING A FUCKING HANDICAPPED PRISONER kinda gets me down. Let's go shopping!
In the Bag: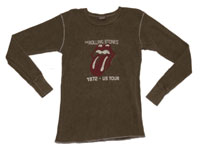 BC Ethic "Stones '72", via coolestshop.com. $40 (on sale).
January 24, 2005
Dack.com, in association with The Rational Enquirer, is proud to announce the release of the
Developed mainly for wire service reporters, but available to the general public, the BOMB-A-TRON™ helps writers quickly file stories about the latest car bombing in Iraq. Select the city, the car make and model, the number of killed and wounded, and BOOM!, the BOMB-A-TRON™ writes the rest, right down to the quote from U.S. military spokesman that the bombing is a sign of the insurgents' desperation. Simply push the "Make Article" button, file with your editor, and you're done. Try it today!
-------
In the Bag: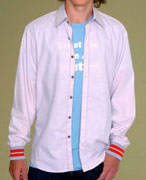 Modern Amusement Collegiate Check. In pink, with track jacket cuffs. Via urbanoutfitters.com. $39.99 (on sale).
January 20, 2005
A guy two cubes over is cutting his fingernails.
ARGHHHHHHH!
Is that OK? Can I cut my toenails at the office? How about cleaning my ears? Clipping my nose hair? Can I take a piss in the kitchen sink? Does anyone here mind?
January 18, 2005
Now here's a step in the right direction. According to today's LA Times, the US military says it cannot defeat the Iraqi insurgency. Like, duh. The alternative plan, to train Iraqi forces, seems like wishful thinking since they've shown about as much interest in fighting as South Vietnam's ARVN.
I remember watching Scott Ritter on CSPAN in January 2004 saying "the US will leave Iraq with its tail between its legs." Of course he was called an idiot and a traitor by the callers, many with a southern twang, but he'll be 2-0 with his call on Iraqi WMD.
(Just doing some Googling on Ritter's quote, it looks like it was first uttered on March 25, 2003, just six days after the liberation was launched. Guy is better than fucking Carnac The Magnificent.)
January 14, 2005
Mission Accomplished! (If you're a terrorist.)
Iraq New Terror Breeding Ground

Iraq has replaced Afghanistan as the training ground for the next generation of "professionalized" terrorists, according to a report released yesterday by the National Intelligence Council, the CIA director's think tank.
January 13, 2005
I've never been bitten by the RSS bug -- in fact, I don't understand what all the fuss is about -- but the kids these days are demanding it. So cin-o-matic has put together a most excellent one. There is also an Atom flavor for those who prefer Atom.
January 12, 2005
It's Wednesday, the day The Onion is published. But, alas, this headline appeared in The Washington Post: Search for Banned Arms In Iraq Ended Last Month. Dafna Linzer reminds us how ridiculous the whole thing was:
President Bush, Vice President Cheney and other top administration officials asserted before the U.S. invasion in March 2003 that Iraq was reconstituting its nuclear weapons program, had chemical and biological weapons, and maintained links to al Qaeda affiliates to whom it might give such weapons to use against the United States.
Remember all those Iraqi evildoers, ready to kill Americans, who had names right out of a Bond flick, like "Dr. Germ" and "Mrs. Anthrax"? Well, ...
None of the scientists has been involved in weapons programs since the 1991 Gulf War, the ISG determined more than a year ago, and all have cooperated with investigators despite nearly two years of jail time without charges. U.S. officials previously said they were being held because their denials of ongoing weapons programs were presumed to be lies; now, they say the scientists are being held in connection with the possible war crimes trials of Iraqis.
January 11, 2005

Sure, I like Netflix as much as the next guy, but what's with all the pixelated crap on their new header? Clean that shit up.
-------
Sho' 'nuff. Do a Google on pixelated crap and you come across a pixel-based illustration of a camo thong:

January 10, 2005
If Mike Sherman doesn't fire Bob Slowik this week, then he must also be fired. Period.
-------

Can you get Tivo installed in the brain?

I've had a Tivo-like device for a very long time now, and while I don't record a whole lot, I'm a huge fan of rewinding the tape to watch a play again or catch a good quote I partially missed. It's become such a habit that over the past year or so I've found myself looking for the Rewind button on the car radio. Lately, there's been a weird urge to find the Rewind button for life experiences. Like on Saturday, at a birthday party for my son's friend, there was this tall, thin Yummy Mummy in skin-tight Seven Jeans who bent over to pick up her daughter, exposing her thong. My impulse was to reach for the remote and watch the scene again, maybe even pausing for a while.
Someone please help me. Tivo?
-------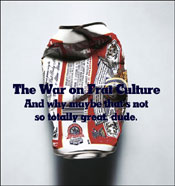 I'm not really sure the cover story of the New York Times Magazine is the best place for a wildly meandering piece on the changing frat culture, but there was one amusing bit about my old frat, Kappa Sigma, that got booted off Northwestern's campus in 2003:
The last casualty was Kappa Sigma, banished after its 2003 formal dance party at the Shedd Aquarium in Chicago. In a gaffe almost too dopey to be believed, a Kappa Sigma brother dropped a flask into the aquarium's beluga whale tank. Already on probation for an alcohol-related incident that sent a pledge to the hospital, the fraternity was booted off campus by Northwestern administrators (it can petition to return in 2007), but not before the brothers could make going-away T-shirts. They read, "Kappa Sigma -- a Whale of a Good Time."
January 7, 2005
In the Bag: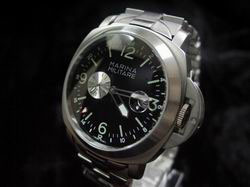 Marina Militare GMT, via ebay. £42 (about $500 @ current exchange rates).
Purchased as a test to see if I'm ready to spend the GDP of Haiti for The Real McCoy.
-------
While the critics are happy to see Michael Keaton getting some work, the knives are definitely out for his film White Noise. E Online! writes:
Michael Keaton hears dead people. And after he reads the horrible reviews of this jumbled mess, he'll wish they'd told him to turn this role down.
January 5, 2005
I'll betcha Lance Cpl. Jerry Contreras is unaware of the irony, or the historical parallel when describing how residents feel returning to Falluja:
"There are some happy faces but also sad ones," said Lance Cpl. Jerry Contreras, 19, of Long Beach. "I saw one man start crying when he saw his house was destroyed. I felt bad but I knew we didn't just blow it up, we had to."
January 4, 2005
Unfortunately, I bleed Green and Gold. I blame my dad for my obsession. My most vivid childhood memories are of him yelling, quite often, "Goddammit!" and "Jesus Christ!" at the TV every Sunday afternoon.
It was the Bart Starr era, so it's understandable.
I tried to give it up once. In 1999 I made plans during every Packer game. During the fall I played golf. In the winter I went to double features. But it was no use. The Green and Gold flowing though my veins kept sucking me back in.
So I tried something else. Instead of trying to kill my obsession, I fed it. Like an alcoholic on a bender. I fully embraced the GBP. I watched every game. Broke down every play. Learned about the salary cap. Became a hard-core member of Packer Nation.
And for this reason, I waste my time putting together a complete web page devoted to the firing of defensive coordinator Bob Slowik.
January 3, 2005
Cheers to the Times' A.O. Scott who rightfully nails Sideways as the most overrated movie of the year. In a landslide.
-------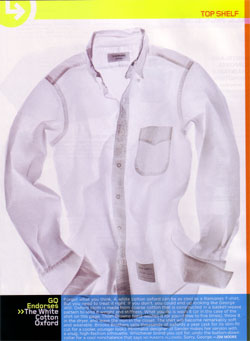 GQ is endorsing the white cotton oxford. Friends who read this site will laugh because its author has been heavily endorsing -- almost every day -- the white cotton oxford for about the last 15 years.
The shirt pictured is by NY designer Thom Browne ($200), who got some nice publicity in last week's Newsweek. Says Browne: "My clothing is not retro at all. But it's inspired by a true American sensibility of the '50s and early '60s."
Sweet.